2023 Nominee ✨
Best Sports Betting Partnership
ABOUT THIS ENTRY
Ahead of the 2022 NFL season, Amazon announced that DraftKings had been selected as the exclusive pregame odds provider for Thursday Night Football (TNF) on Prime Video. As part of the multi-year agreement, TNF contained DraftKings integrations during the live pregame show, which included sports betting insights, TNF-themed offerings, and same-game parlays.
How does this represent "Excellence in Engagement"?
With more than 40% of the American population able to legally wager on sports with the DraftKings Sportsbook app, it was important for DraftKings to have the ability to reach millions of customers during a standalone NFL broadcast.
DraftKings is committed to putting its customers first and enhancing the viewership experience. Just a few years ago, it was unheard of for a broadcast to mention a sports betting line but today, leagues and rightsholders have embraced sports betting and recognize the value it brings to sports fans.
TNF programming on Prime Video highlighted exclusive DraftKings offers and insights that fans could watch during the live broadcast, as well as viewed on the DraftKings Sportsbook app. This cross-channel support with custom in-app branding and new content shared each week, in addition to integrations with DraftKings and TNF talent, enhanced the way fans consumed gameday content.
The collaboration has raised the standards in engagement by combining sports betting with fandom and delivering it straight to fans.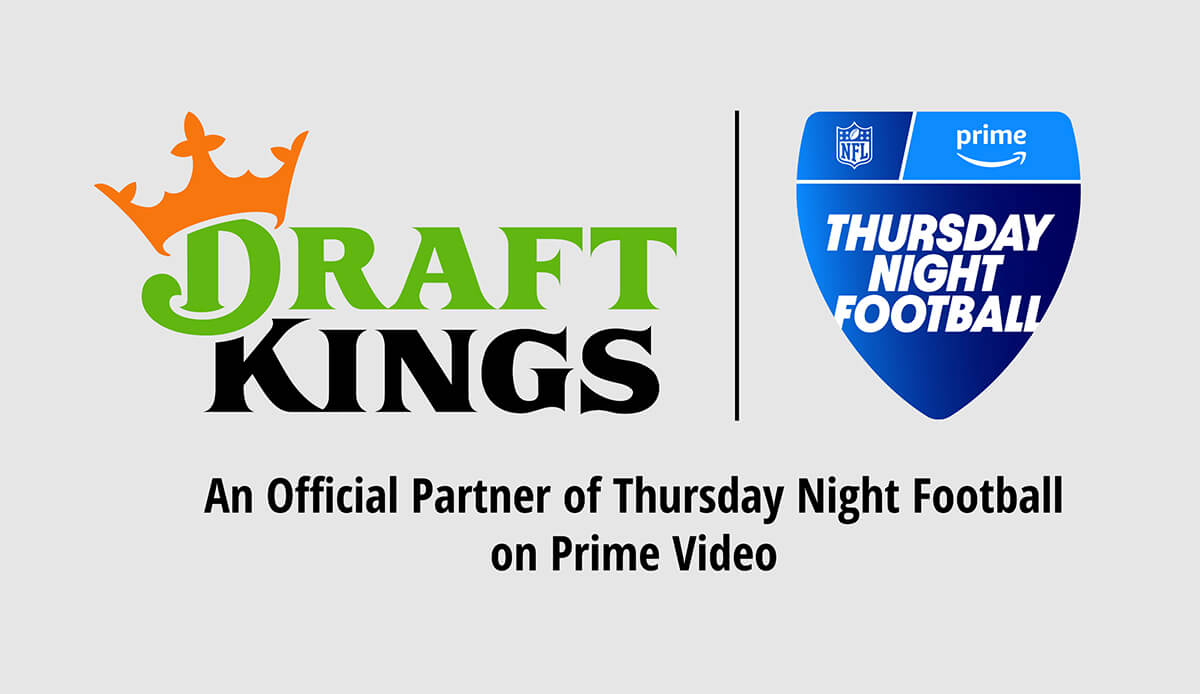 Objective
As a digital sports entertainment and gaming company, DraftKings is always looking for ways to drive innovation forward. The NFL season is DraftKings' most active time of the year, so collaborating with Amazon to offer authentic and engaging content to viewers of TNF on Prime Video was a tremendous opportunity.
With sports betting now legal in more than 40% of the United States and primed to grow, DraftKings created exciting opportunities for the millions of viewers tuning into TNF on Prime Video by incorporating sports betting insights into pregame programming. Giving sports fans more access to in-depth content and serving as a resource to help educate viewers about sports betting further provided an increased level of entertainment for fans to enjoy.
This ground-breaking deal provided a new level of fan engagement beyond traditional broadcasting and innovated the way fans consume betting information.
Strategy & Execution
As the official pregame odds provider of TNF, DraftKings' content was featured exclusively in pregame programming of all 15 TNF games during the 2022 NFL season, providing fans with engaging content and exciting betting offers ahead of each game.
The TNF pregame show prominently featured DraftKings' insights across its live programming, along with an exclusive integration called "TNF Three Play presented by DraftKings Sportsbook," where a DraftKings same-game parlay was previewed by the broadcast's esteemed talent for that evening's upcoming game.
Additionally, DraftKings featured Amazon's NFL talent roster in creative content designed to promote exclusive TNF offerings. Richard Sherman and Ryan Fitzpatrick made picks based on DraftKings Sportsbook odds and promoted that evening's "TNF Three Play" same-game parlay.