ABOUT THIS ENTRY
FIFA+'s goal is to connect football fans and build meaningful connections with supporters of the beautiful game. It engages millions of fans from around the world with original documentaries, rich editorial, live and archived matches, and importantly—gaming.
FIFA+ Play Zone is a cutting-edge gamification hub that sits as a fan engagement vertical within FIFA+ and underpins how FIFA attracts, engages, and retains millions of fans.
Powered by Genius Sports, a sports technology and fan engagement leader, FIFA+ Play Zone offers a suite of free-to-play games and interactive partner activations, which for the FIFA World Cup Qatar 2022™ included the official Fantasy and Predictor games, Daily-Play games and more.
The solution is tied together by an innovative gamification layer, building retention habits via features such as levels, badges, and trophies. The result is a destination for highly engaged fans which has driven over two million FIFA+ sign-ups.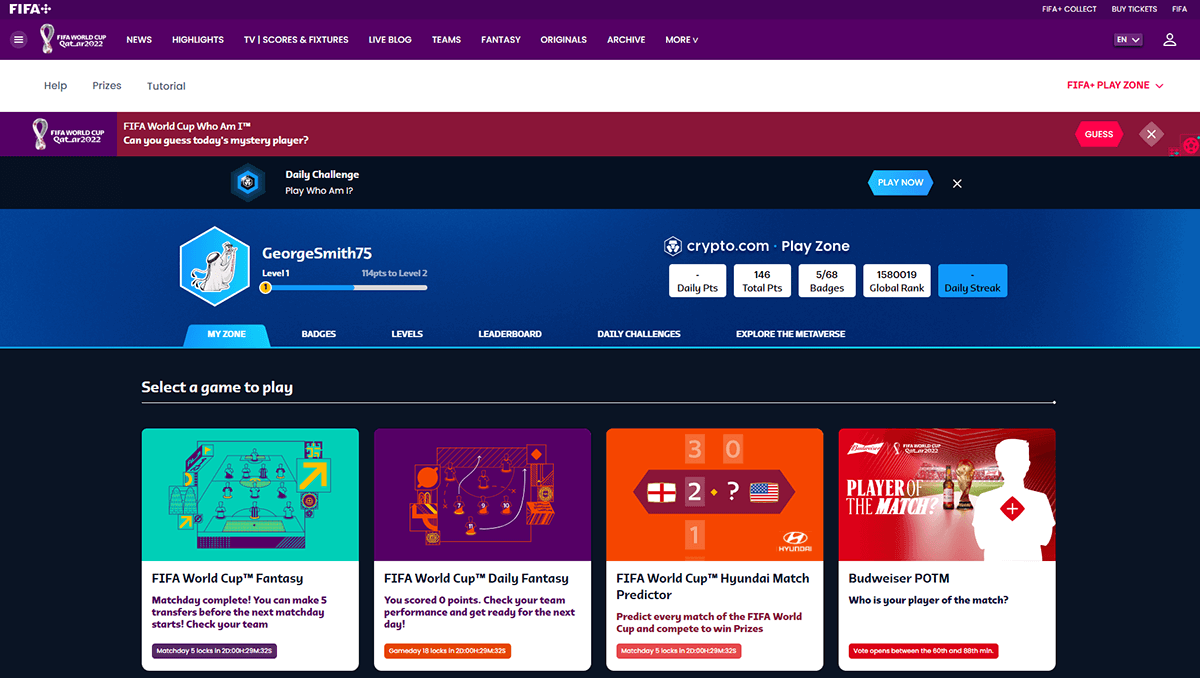 How does this represent "Excellence in Engagement"?
What sets the FIFA+ Play Zone apart is the highly personalized nature of the platform. Tailoring content and experiences to each individual fan is pivotal for leagues, teams, brands, and more to attract and retain their attention and monetization potential.
The FIFA+ Play Zone goes beyond any other gamification platform in world sport by combining a highly engaging rewards system that incentivizes fans to keep playing at every turn with daily challenges, contextual prompting, and a dashboard based on players' past activity.
No other gamification hub in world sport delivers the same level of customization and the FIFA+ Play Zone is setting a new standard for any league or team looking to engage their fans year-round while delivering significant value to their sponsors.
The size of the monetizable audience that the FIFA+ Play Zone has created is also what sets this work apart. Attracting over two million registrations in two months is pivotal to achieving the FIFA+ mission of connecting soccer fans and building meaningful connections with supporters from around the world.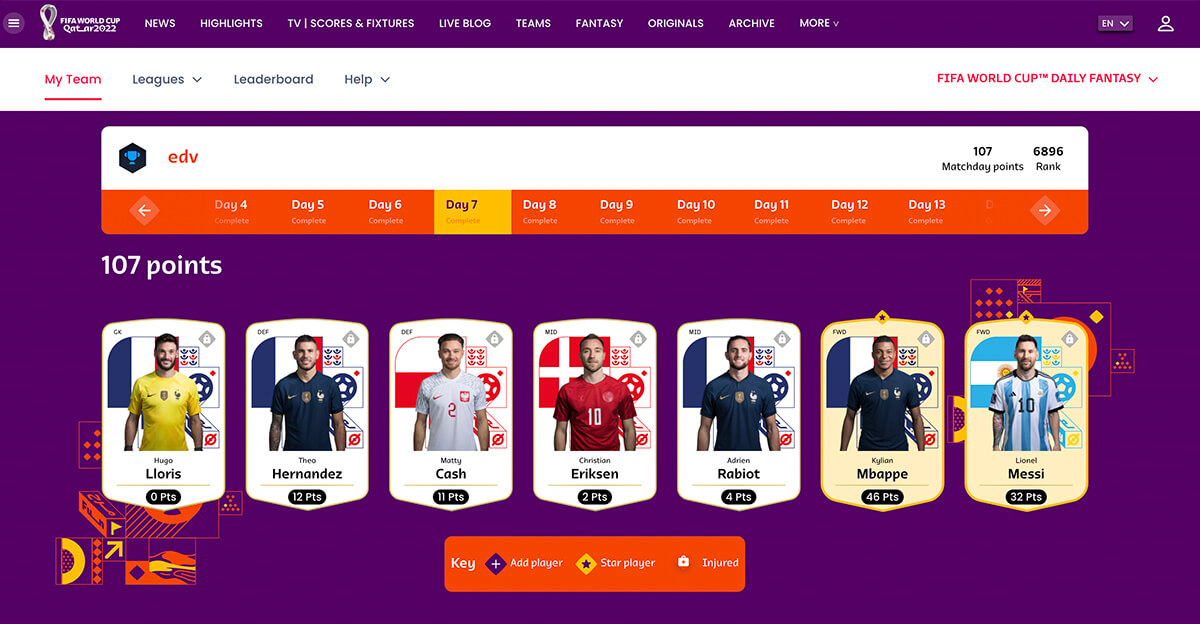 Objective
Launched in April 2022, FIFA+ is the official home of football content for fans globally. It provides fans free of charge with live streams, match highlights, documentaries and series, news, and much more. However, in order to make it commercially viable and valuable, FIFA+ needed tools that would encourage fans to sign-up and share their data.
FIFA+ Play Zone is essential to this mission, delivering a clear value exchange through a suite of interactive games that align with FIFA+ content, enhance the World Cup fan experience and then work to retain and engage them year-round.
From the outset of the FIFA partnership, Genius Sports' team identified three clear objectives for the FIFA+ Play Zone.
As a central part of the FIFA+ ecosystem, it had to drive registrations, providing a clear value exchange of engaging and interactive content in return for a fan's audience data.
It also had to enhance the football fan experience before, during, and after the FIFA World Cup Qatar 2022™, engaging football fans right around the world.
FIFA+ Play Zone also had to deliver new value and owned IP to FIFA's commercial partners, helping them deliver on their sponsorship agreements.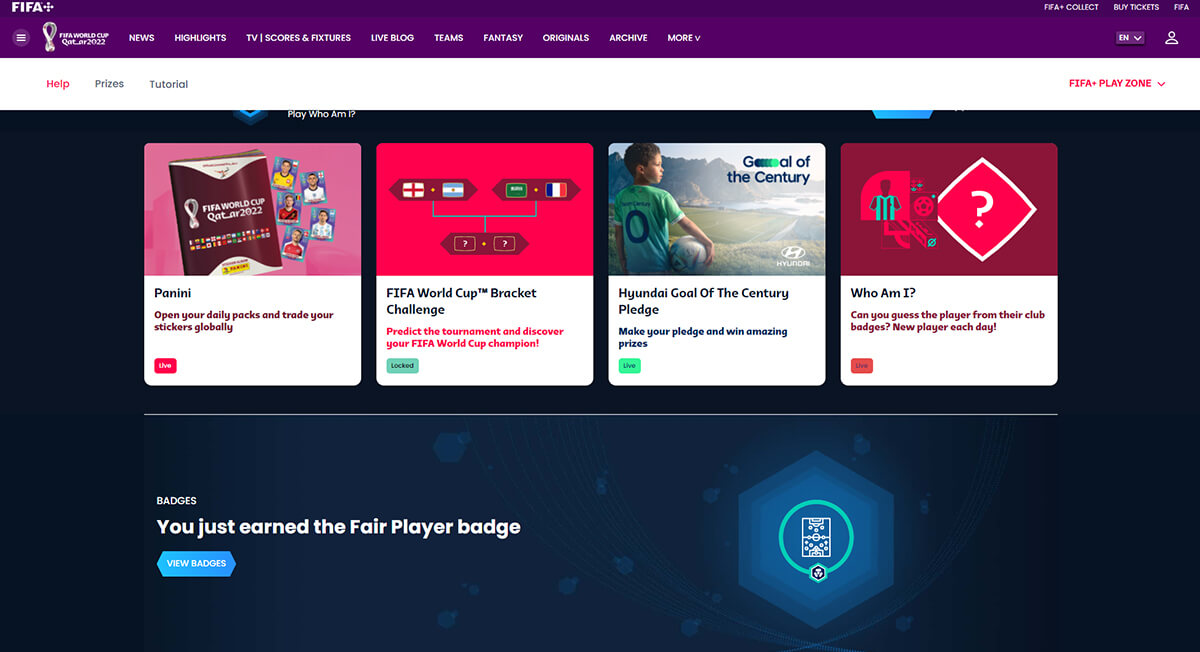 Strategy & Execution
FIFA+ was launched in April 2022, with the first free-to-play game released just before with fans asked to predict the full draw for the FIFA World Cup Qatar 2022™, building early excitement for the tournament.
The first version of the World Cup Play Zone was then launched in September, providing fans with a huge volume of games to engage them with each tournament phase.
The modern sports fan expects an experience that is personalized to their interests, favorite teams, and content. From the outset, the FIFA+ Play Zone had to be a highly gamified platform, encouraging fans to interact daily with the games.
Each fan views a personalized lobby when entering FIFA+ Play Zone with the order of the games based on preferences and past gaming activity.
Fans are also given daily challenges, encouraging them to achieve targets or play specific games to maintain regular engagement. Fans are then awarded badges, awards, and trophies, creating competition at every level and building more meaningful connections.
The FIFA+ Play Zone is the most advanced gamification platform in world sport, providing a huge database of monetizable fans that FIFA can engage long after FIFA World Cup Qatar 2022™.