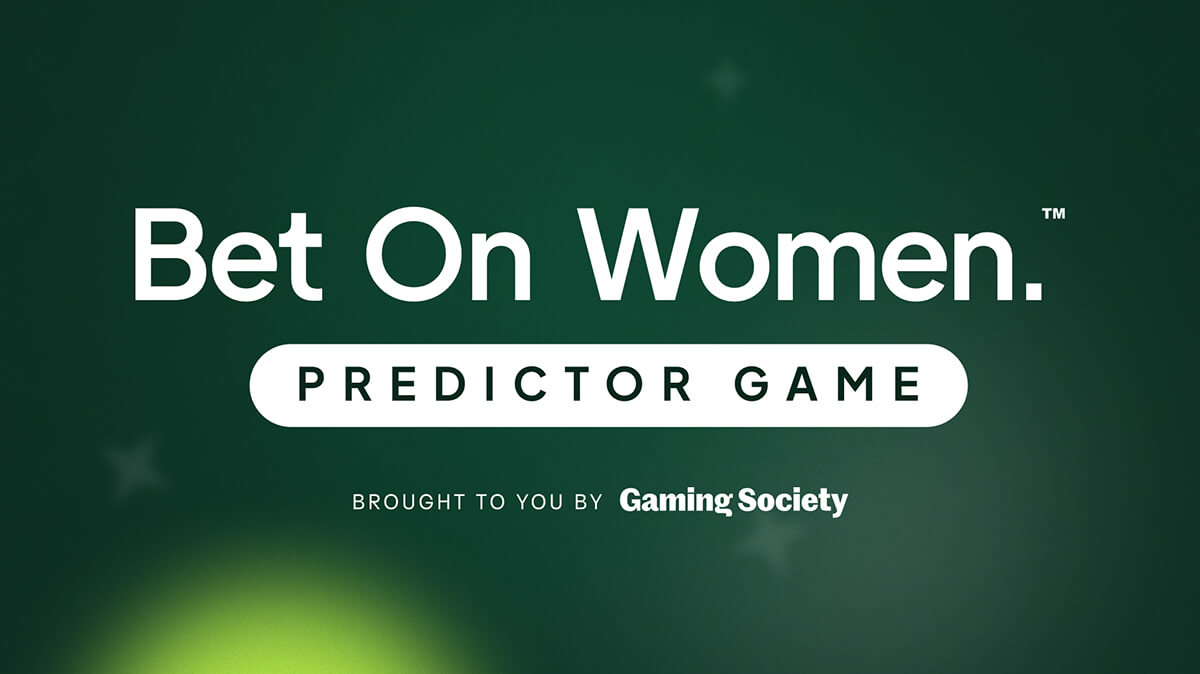 ABOUT THIS ENTRY
Gaming Society is a new betting education company committed to making betting easy, inclusive, and accessible to all fans. Over the past year, Gaming Society partnered with some of the world's most notable sports leagues and organizations to further its mission.
As part of Gaming Society's larger Bet On Women initiative, they partnered with both the WNBA and NWSL for two innovative, free-to-play Bet on Women Predictor Games predictor games.
How does this represent "Excellence in Engagement"?
The recent state-by-state legalization of sports wagering has created opportunities for leagues to capture and engage a new set of fans. This specific demographic could likely consist of individuals who were not fans prior, but are hungry to learn more about the game, players, and storylines.
Gaming Society's existing partnerships with both the WNBPA and NWSL were signed to tell the stories of the most notable players in both leagues while also pushing for equitable betting lines on sports. The free-to-play predictor games were extensions of the ongoing campaign to increase gamification opportunities in women's sports. 50% of sports viewers annually are female, yet only 20% of this figure are actively betting. This untapped demographic continues to be a valuable cohort for sportsbooks and one that is converting to wagerers with each day.
Gaming Society recently partnered with UNLV's IGI institute to conduct research into the habits overall female bettors to better inform decision-makers and marketers about these demographics.
Gaming Society's free-to-play game can serve as a potential blueprint for both leagues and sportsbooks looking to drive awareness, create engagement, and drive revenue in both the short and long term.
Objective
Gaming Society partnered with both the WNBA and the NWSL and launched two new, free-to-play predictor games during both league's 2022 seasons. Designed to boost engagement for the WNBA and NWSL while driving awareness to its stars, Gaming Society's team created a first-of-its-kind game for both leagues that consisted of a series of questions that would reward its top scorers with exclusive prizes and giveaways.
Gaming Society's aim is to find organic and original ways to create gamification opportunities for women's sports. Since the rapid state-by-state legalization of sports wagering, leagues have discovered that gamification opportunities are a driver of viewership, attendance and engagement. Gaming Society and the WNBA and NWSL predictor games were an effort to use gamification as an effort to shed light onto both league's most notable moments, players, and storylines during key parts of the league season. Predictive game questions were meant to replicate actual bets that could be placed in a sportsbook, introducing fans to sports betting in a risk-free environment. The questions also leaned into pop-culture moments and trends to captivate fans interests, such as fashion and specific highlights that weren't always tied directly to stats.
Strategy & Execution
The primary objective was to find effective ways to gamify both the WNBA and the NWSL and its products via Gaming Society's platforms. In a short time, Gaming Society's editorial and product teams implemented two different twenty-question mobile games that were populated with various questions on both WNBA/NWSL and pop culture trivia. The NWSL Game included a mix of real betting questions and predictions ties to pop culture and social media trends while the WNBA Game went throughout the season and allowed fans to make predictions on every game of the league season.
The predictor games were released during the summer and coincided with notable events in the respective league calendars. The WNBA predictor game was launched when the WNBA season was in full swing and additionally coincided with the league's annual Commissioner's Cup matchups at the midway point of the season. The NWSL predictor game launched close to the league's championship game. Gaming Society's editorial staff distributed numerous notifications and updates on the releases through the company's owned channels, especially on the daily newsletter. Game prizes were catered to exclusive experiences that resonated with league fans and helped promote overall visibility, such as all-expenses trips to the WNBA finals.