2023 Nominee ✨
Best Brand Sponsorship
Best Integrated Marketing Campaign
Most Creative Partnership with an Athlete or Influencer
ABOUT THIS ENTRY
During the FIFA WC2022, Hyundai focused on something very different compared to the many global sponsors who care more about showing off their logo and making money.
Instead of running cookie-cutter ads and driving sales, Hyundai launched the "Goal of the Century" campaign to unite the world for sustainability utilizing football's global stage to rally people towards a greener tomorrow.
Hyundai believes that the greatest goal isn't scored on the pitch.
Therefore, Hyundai and its team of influencers (Team Century) decided to inspire people to score greater goals for the good of the planet. With the help of football legend Steven Gerrard, global pop sensation BTS and others, Hyundai asked fans around the world to join our sustainable pledges, and they did! Together, we not only planted thousands of trees, used global music for sustainability, designed a recyclable museum, but even built an electric vehicle infrastructure in Qatar, and more.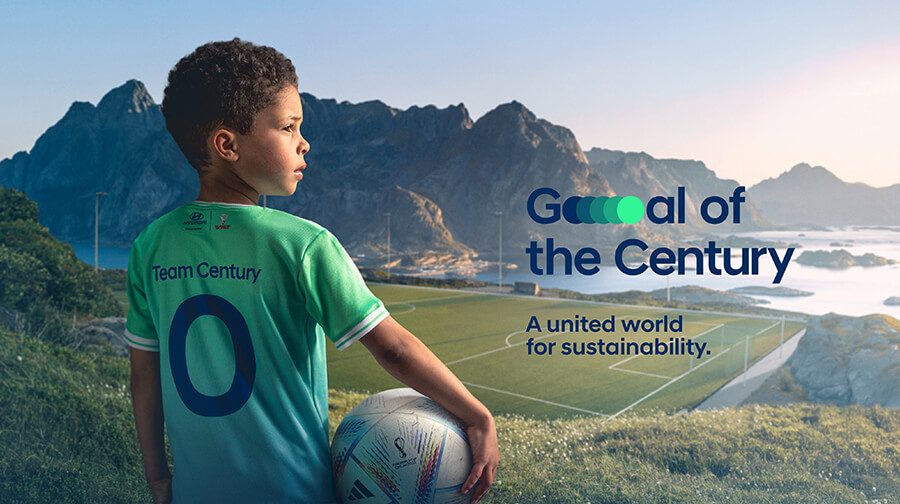 How does this represent "Excellence in Engagement"?
With the Goal of the Century campaign, Hyundai is taking a path in global sports communication that is both very unique and completely unusual for a World Cup sponsor. Where most sponsors prioritize sales and their logo being shown everywhere, Hyundai is doing everything in its power to do something great for the planet. Hyundai is building a team called Team Century that aims to inspire and activate the global football community to act together for sustainability.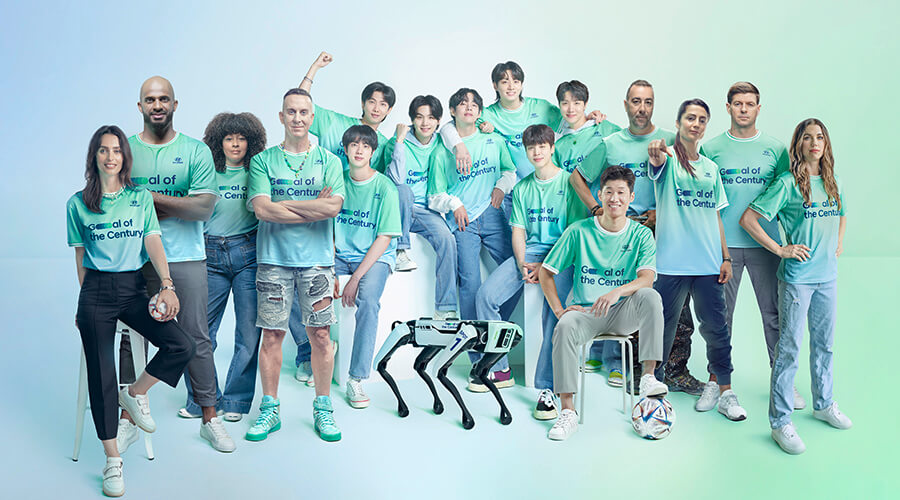 Objective
One of Hyundai's main objectives during the campaign was to use the tournament that unites the world to unite the world for sustainability. Hyundai set itself a goal to recruit millions of football fans, environmental activists, and regular people who are passionate about our future around the world. To achieve such an ambitious reach, we collaborated with famous football players and influencers who asked their countless followers to join their sustainable pledges.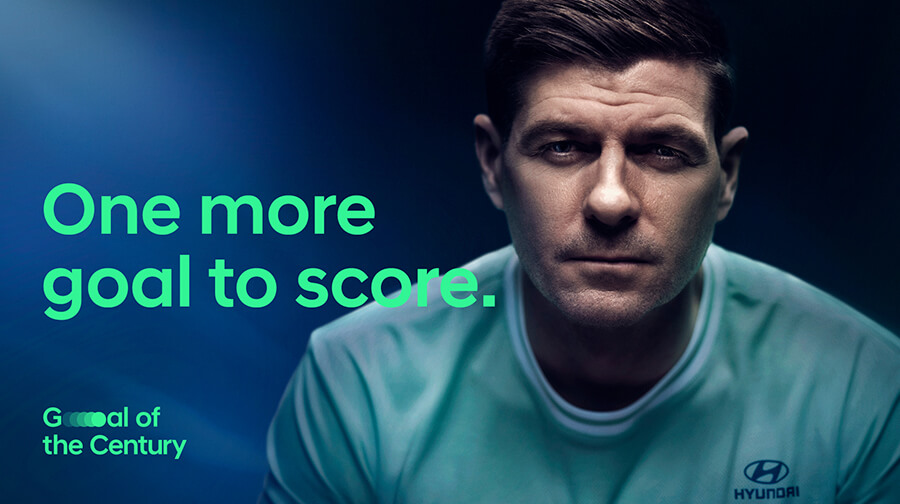 Strategy & Execution
We created a narrative that linked football and sustainability by recalling the fan-favorite goal scored during the FIFA World Cup 1986 by Diego Maradona, which was hailed to be the Goal of the Century. We used this historic moment to create a manifest that talked about the beauty of that goal but also about the fact that there's an even greater goal to score—a goal that unites the world for sustainability.
After launching our ad campaign worldwide, we created a team of influencers we called Team Century that promoted our cause. Thanks to these influencers and Hyundai, we planted thousands of trees, built a 100% recyclable FIFA museum, created a sculpture out of recycled materials in collaboration with Lorenzo Quinn that we called the Greatest Goal, and that wasn't even half of it. Every time a great goal was scored at the World Cup, we hijacked the moment through social media to make people aware of a greater goal.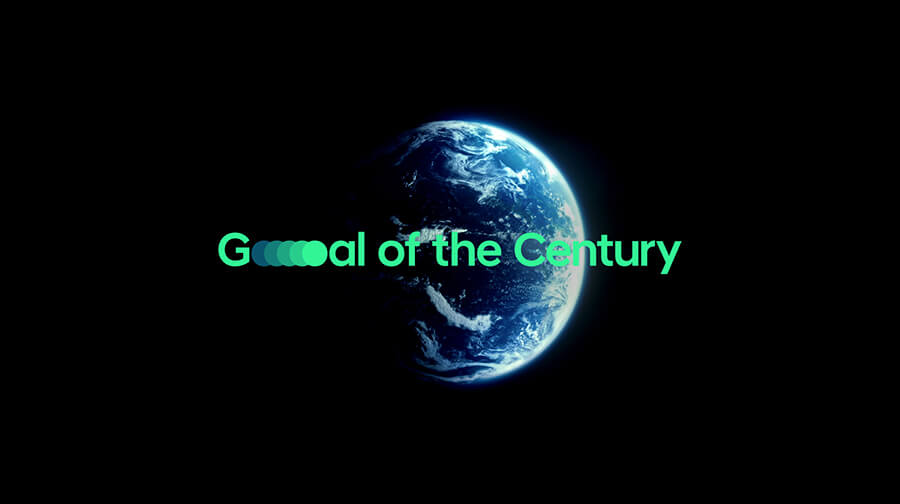 Organizations
Jung von Matt SPORTS
Hyundai Motor Company
INNOCEAN
Athletes/Influencers
Steven Gerrard
BTS
Lorenzo Quinn
Nadia Nadim
Jeremy Scott
Nicky Woo
SPOT
Alex Morgan
Ji-sung Park
Ali Al Habsi
Credits
Sungwon Jee
CMO, Head of Brand Marketing Division
Hyundai Motor Company
Jumi Kim
Head of Brand Experience Group
Hyundai Motor Company
Young Jang
Head of Brand Design Group
Hyundai Motor Company
Heekyung Kwon
Head of Space Marketing Group
Hyundai Motor Company
Michael Jin
Head of Brand Promotion Team
Hyundai Motor Company
Changhoon Han
Head of Product Marketing Team 1
Hyundai Motor Company
Saemi Shin
Head of Brand Communication Team
Hyundai Motor Company
Namjoong Kim
Head of Brand Strategy Team
Hyundai Motor Company
Seojin Kim
Head of Space Design Team
Hyundai Motor Company
Yoona Lee
Head of HMS Management Team
Hyundai Motor Company
Sungwoo Suh
Head of Brand Design Team
Hyundai Motor Company
Sung-il Chang
Head of Division
INNOCEAN
Wuk Seo
FWC BTL Project Team Leader
INNOCEAN
Yoon-kwan Choi
Head of Division
INNOCEAN
Gye-eun Chang
Head of Group
INNOCEAN
Bo-kyung Kim
FWC ATL Project Team Leader
INNOCEAN
Robert Zitzmann
Managing Director
Jung von Matt SPORTS
Joachim Kortlepel
Managing Director
Jung von Matt SPORTS
Felix Umbach
Creative Director Art
Jung von Matt SPORTS
Jakob Rabold
Creative Director Copy
Jung von Matt SPORTS
Juliane Weber
Client Service Director
Jung von Matt SPORTS
Albert Hornbach
Executive Account Director
Jung von Matt SPORTS
Janik Lindenblatt
Account Director
Jung von Matt SPORTS
Irakli Asantiani
Senior Copywriter
Jung von Matt SPORTS
Mubarak Nojimudeen
Art Director
Jung von Matt SPORTS
Mark Bennett
Senior Art Director
Jung von Matt SPORTS
Blake Waters
Senior Copywriter
Jung von Matt SPORTS
Sebastian Ebenhack
Account Director Sponsoring
Jung von Matt SPORTS
Clara Iltgen
Strategy Director
Jung von Matt SPORTS
Jan-Luca Lossau
Senior PR Manager
Jung von Matt SPORTS