ABOUT THIS ENTRY
Haitian rookie and burgeoning star Bennedict Mathurin hadn't eaten a home-cooked meal from his mother in over four years. We flew his mother and sister to Indianapolis to have them surprise the whole team after practice by cooking and serving one of Benn's favorite Haitian meals.
How does this represent "Excellence in Engagement"?
For us, the outsized success of this video significantly improved our organization's confidence in overall success marketing to international audiences that Indianapolis is not typically known for.
We had historically worked with a number of minority communities, but never with Haitian groups in Indy, and this majorly opened the door for us. It inspired a great deal of other storytelling this season around players from the Dominican Republic, Germany, and Canada.

We also have done far more storytelling this year from the perspectives of players' moms, dads, sisters, and brothers. We think this is an undertapped human interest area that our fans are loving to see. This video helped kickstart those regular efforts.

We hope that other teams will see some of this success and dive deeper into the backgrounds of their players as well.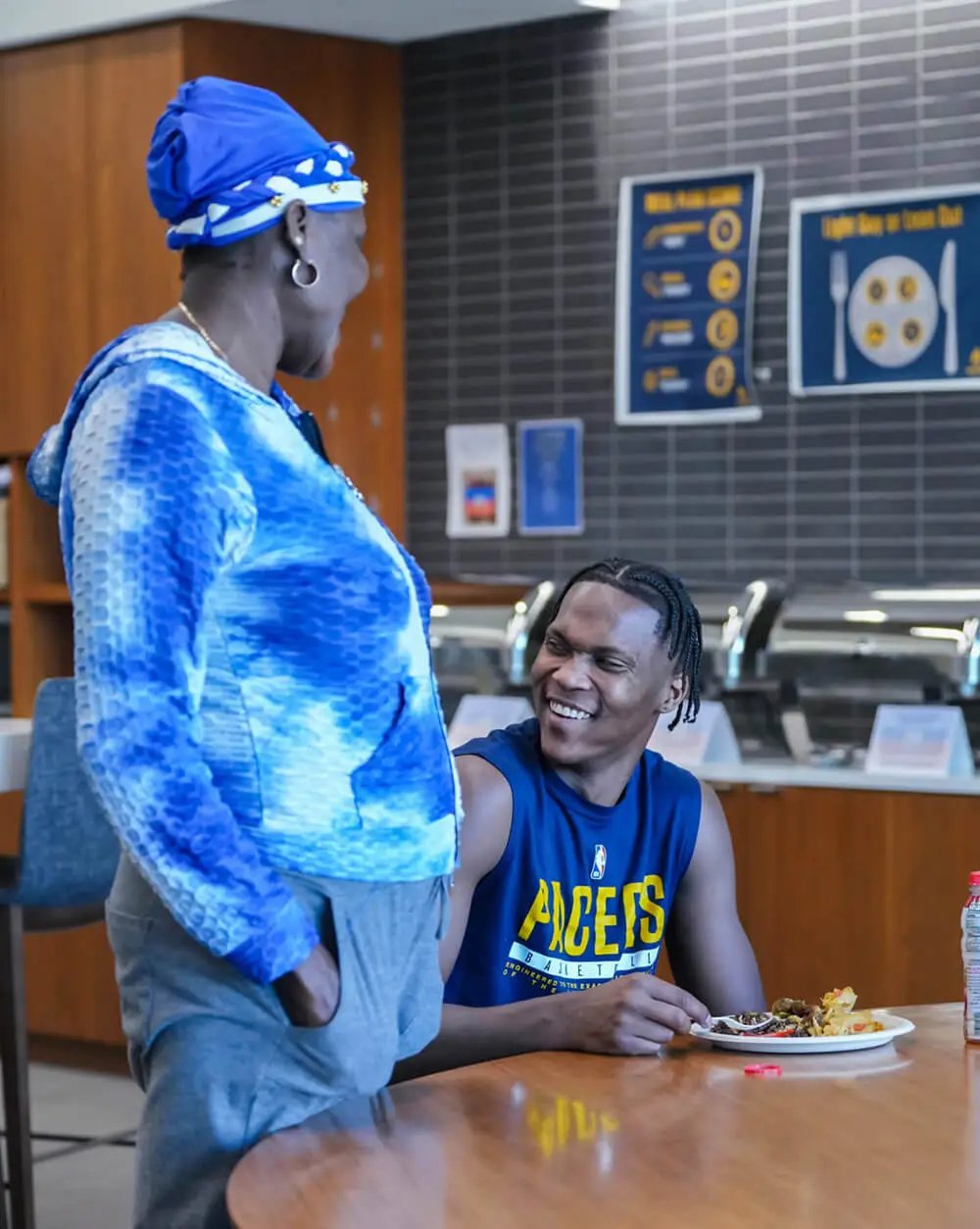 Objective
We were committed to several goals around this piece:
Introduce our fans to our highest draft pick in more than 30 years, getting to know his journey to the NBA (his Haitian roots, moving to Montreal, and leaving home early to attend the NBA Academy before going to college and then the league.
Tell diverse stories about the unique cultural history of one of our core players.
Create a special real-life experience for a new player and his family, as well as a surprise for the whole team
Generate league-wide buzz around an exciting Pacers rookie
Strategy & Execution
We know that digital attention spans are short, so we had to pack a whole lot of storytelling elements into a relatively short (less than three minutes) video. We knew we had to make this a fast-paced story, and also that we'd need a particularly strong cold open to get fans to immediately engage and continue viewing rather than swiping by. We also knew to tell this story right we'd have to do substantial interviewing of Benn's mother and sister in advance to make sure we did the story justice.

We optimized this video for a number of platforms -- Facebook, Instagram, Twitter, YouTube, TikTok, Pacers.com, the Pacers app, and television, all with cuts of different length and dimensions. When the video began picking up traction, we also shuttled the video to ESPN, NBATV, FOX Sports, and other media networks for use on other channels.
Organizations
Pacers Sports & Entertainment
Credits

Tyler Beadlescomb
VP, Head of Digital Strategy
Pacers Sports & Entertainment

Danjae Rosete
Associate Director, Digital Video
Pacers Sports & Entertainment
Zach Hughes
Associate Director, Social Content
Pacers Sports & Entertainment

Wheat Hotchkiss
Associate Director, Digital Marketing
Pacers Sports & Entertainment
Robyn Fuhrman
Associate Director, Digital Partnerships
Pacers Sports & Entertainment

Kaitlyn Sintkowski
Associate Director, Digital Marketing
Pacers Sports & Entertainment
Kyle Grand
Digital Marketing & Content Manager
Pacers Sports & Entertainment
Andy Keller
Web Developer
Pacers Sports & Entertainment

Karen Atkeson
VP, Player Relations
Pacers Sports & Entertainment
Marco Martinez
Video Producer
Pacers Sports & Entertainment
Daniel Stallings
Video Producer
Pacers Sports & Entertainment

Renick Bowman
Digital Motion Graphics Designer
Pacers Sports & Entertainment
Logan Kassel
Social Media Coordinator
Pacers Sports & Entertainment
Paige Sterner
Social Media Coordinator
Pacers Sports & Entertainment

Karlee Bland
Social Media Coordinator
Pacers Sports & Entertainment