2023 Nominee ✨
Best Women's Sports Content
ABOUT THIS ENTRY
Elevated, polished pre-game shows are a staple in men's sports, but have historically been lacking on the women's side. We set out to change that with The Warm-Up, our signature pre-game show, which last year aired live from onsite at the NWSL Championship as part of the official pre-game programme.
How does this represent "Excellence in Engagement"?
The Warm-Up set a new standard for pregame atmosphere and production at the NWSL Championship weekend. Even just a year ago, no one would have expected a College Gameday-like vibe at an NWSL game, let alone a marquee show headlined by two of soccer's biggest stars. We believe The Warm-Up will inspire the industry to think big and prioritize production in a way that brings the women's game level with the men's. We also think it's a perfect case study in why athletes make great talent.
Both Kelley O'Hara and Ali Riley are household names in the world of women's sports. Using them to anchor our production was an easy way to both draw fans in and reward them with insider expertise and All-Star personalities. The performance metrics for both the Warm-Up and "Kelley on the Street" should also inspire women's sports stakeholders to realize that, even with a relatively small budget, you can make a big splash by prioritizing expertise, creativity, and excitement.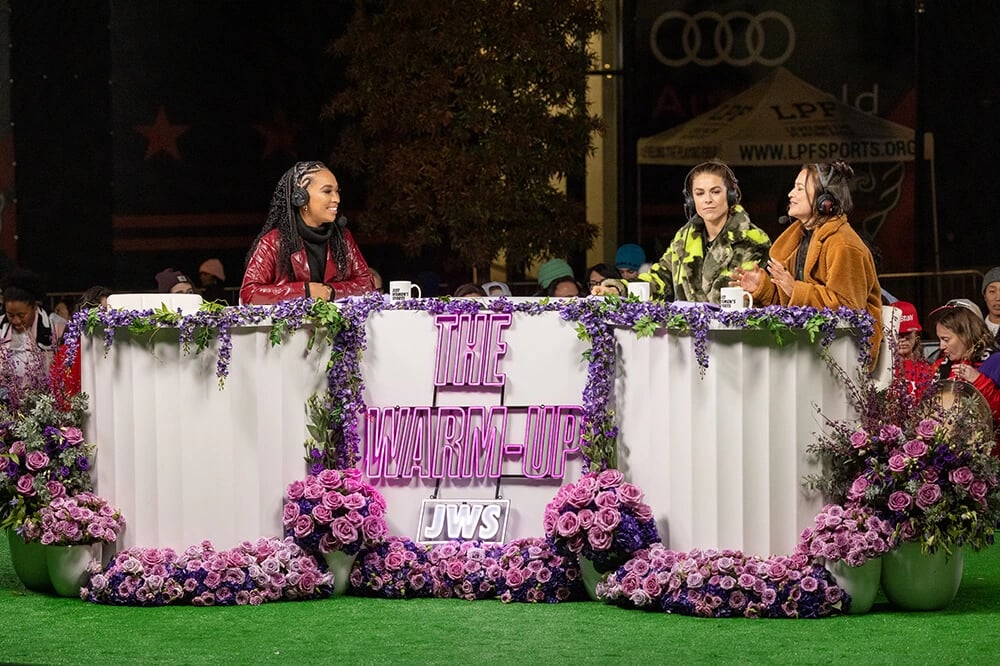 Objective
In a world where women's sports have been historically underfunded and under-promoted, The Warm-Up seeks to level the playing field by bringing expertise and excitement to the biggest event in women's sports. In 2022, we brought The Warm-Up to NWSL Championship weekend, airing live from onsite at Fan Fest. The Warm-Up was streamed on Paramount+ as part of the official Championship programming slate.
The show was hosted by two of soccer's biggest stars in Kelley O'Hara and Ali Riley, as well as award-winning journalist Autumn Johnson. It featured a recap of the 2022 season as well as a preview of the championship game, with both O'Hara and Riley giving their expert opinion and making championship picks. With a full set, including a College Gameday-like desk, as well as pre-programmed highlight packages and a digital short entitled "Kelley on the Street," The Warm-Up was a show that both matched and amplified the excitement and passion surrounding NWSL Championship weekend.
Strategy & Execution
We partnered with the NWSL and CBS to ensure The Warm-Up could be an official part of the Championship day programme. To promote the show, we hit the streets of DC with two-time World Cup Champion and Olympic gold medalist Kelley O'Hara. "Kelley on the Street" was a humorous, social-first video featuring Kelley quizzing locals and tourists about women's soccer. The video immediately went viral throughout the soccer world, so much so that fans were quoting it two days later on-site at The Warm-Up.
"Kelley on the Street" brought a sense of humor and levity to the Championship festivities while promoting The Warm-Up, which Kelley hosted alongside fellow NWSL star Ali Riley and award-winning journalist Autumn Johnson. Our producers created several seamless highlights packages to be included during the show, giving it a polished, elevated feel. This level of production is standard on the men's side, but has historically been missing from women's sports.
We ran a marketing campaign to ensure all fans within driving distance of DC knew about the opportunity to watch live. As a result, a continual crowd of 200+ fans formed around the stage with home-made signs for Kelley and Ali, creating an unbeatable environment.