Winner 4x 🏆
Best Branded Content or Series
Best Original Content or Series (10 min+)
Best Use of Motion Graphics or Animation
Best Use of Technology
Nominee 7x ✨
Most Creative Partnership with an Athlete or Influencer
Best Life or Legacy Tribute
Best New Fan Experience
Best Branded Content or Series
Best Original Content or Series (10 min+)
Best Use of Motion Graphics or Animation
Best Use of Technology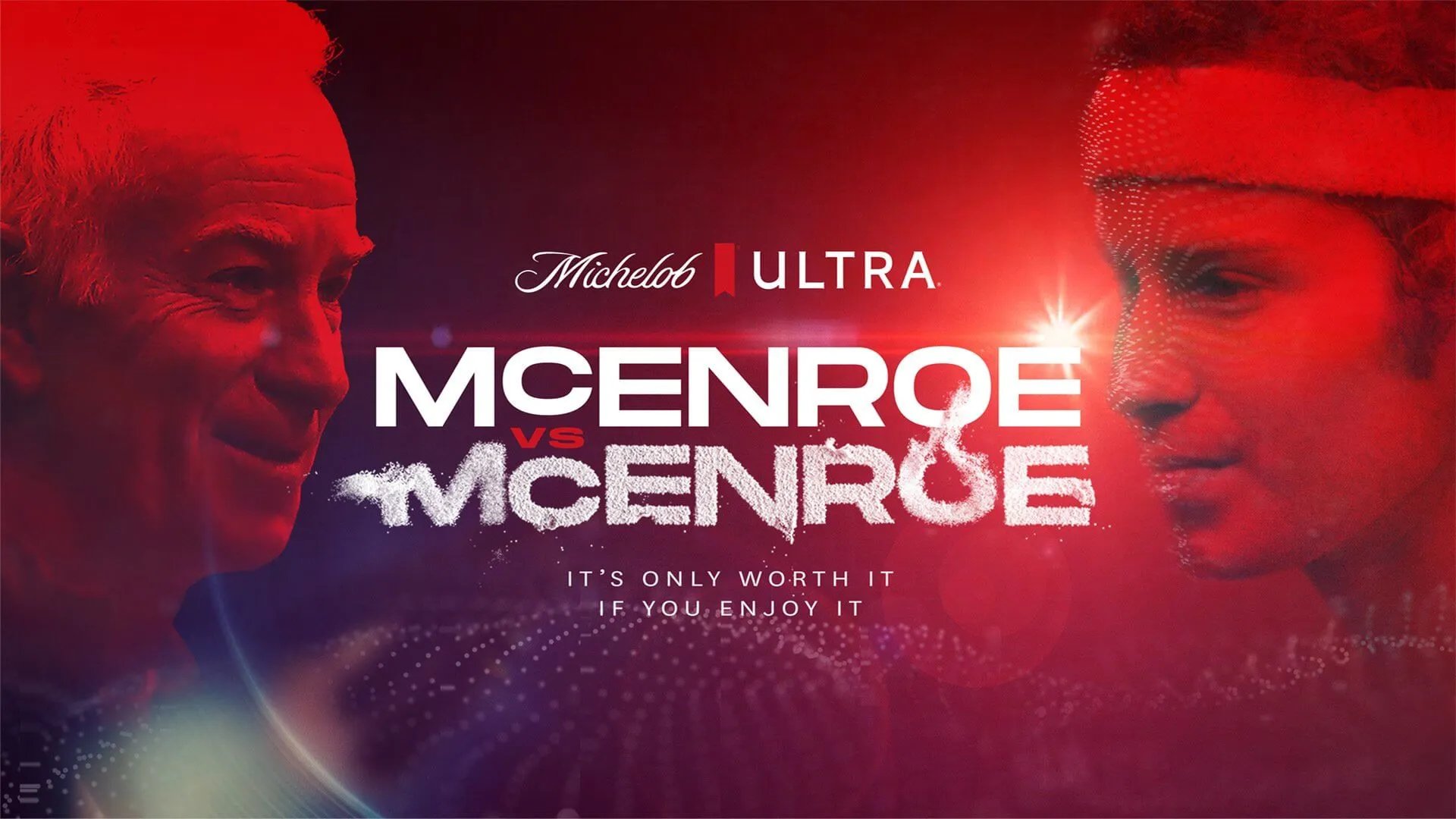 ABOUT THIS ENTRY
Michelob ULTRA created the world's first real vs. virtual tennis match. A man famous for breaking tennis racquets out of anger and the pursuit of success would break new ground by playing five AI-generated versions of his younger self on ESPN, all the while reflecting on his illustrious career and reflecting on the importance of enjoying the ride.
Michelob ULTRA believes "It's Only Worth It If You Enjoy It." And its messaging became especially relevant at a time when more and more athletes have begun to question whether a win-at-all-costs mentality brings them joy.
With "McEnroe vs. McEnroe," Michelob ULTRA helped shine a light on the subject by bringing John McEnroe, an athlete known for being tough on the court, to reflect on his career and face his toughest opponent: himself.
The real John McEnroe played virtual versions of himself from the 1970s and '80s, powered by AR MetaHuman technology, and on a specially built tennis court–the first-ever half real, half virtual one. On the virtual half of the court, we projected McEnroe's avatar onto a particle-mist screen, and on the physical half, we custom-built the surface with acrylic fiber to resemble his favorite courts from the 1980s.
The event was picked up by ESPN, which broadcast it in 50+ countries. The program was a 60-minute media opportunity for Michelob ULTRA on ESPN, reaching more viewers than the NBA Finals.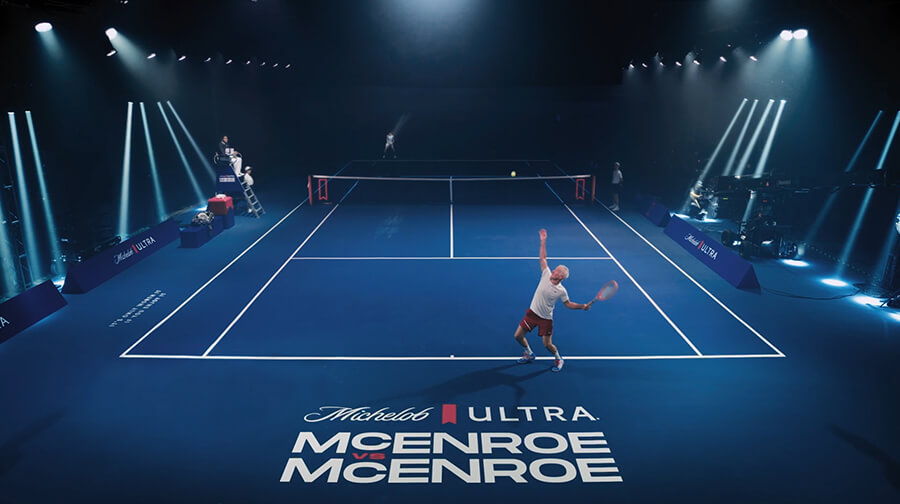 How does this represent "Excellence in Engagement"?
Michelob ULTRA created and produced the first-ever real vs. virtual tennis match between John McEnroe and five virtual avatars of himself throughout various points in his career. The technological feat required hundreds of hours of machine learning and technological advancements to truly replicate the younger version of McEnroe. The 1-hour special was then distributed on ESPN, ESPN+, and ESPN affiliates in 52 countries around the world.
The first-of-its-kind branded content broadcast gave ULTRA 1-hour of free media on ESPN and allowed ULTRA to clearly demonstrate the brand's "It's Only Worth It, If You Enjoy It," POV in a compelling, entertaining and technologically advanced way. The broadcast was supported by social/digital assets, a merch line and in-broadcast e-commerce ads for a truly integrated campaign.
Additionally, in today's day and age, consumers are bombarded with ads. This hour-long TV and streaming special allowed Michelob ULTRA to deliver its message in a unique way that was entertainment, not advertising.
Organizations
FCB New York
160/90
Dentsu
Carat
Code3
3PM
draftLine
Unit9
Falkon
AB InBev – Michelob ULTRA
Credits
Ricardo Marques
VP Marketing
Michelob ULTRA
Talita Andrade
Head of Brand Communications
Michelob ULTRA
Miles Ritenour
Sr. Director, Digital & Earned Media Marketing
Michelob ULTRA