2023 Nominee ✨
Best Integrated Marketing Campaign
ABOUT THIS ENTRY
The NBA City Edition Uniforms represent the stories, histories and heritage that make each NBA franchise unique.
This year, the Memphis Grizzlies City Edition Uniform and Uniform Launch Campaign focused on honoring the bond between court, community and culture in a very grand and intentional way, proving to be monumentally successful.
How does this represent "Excellence in Engagement"?
By representing our team, city and fan authenticity in our marketing campaigns, we have and will continue to drive fan engagement via press/ media, social and digital platforms.
Hyper local story telling, resulting in on and offline conversations, live fan experiences and personalization resonates and results in top engagement.
Planning the future for successful integrated marketing campaigns, similar to the Grizzlies City Edition Uniform Launch, will help to continue increasing Grizzlies and NBA Basketball fandom in mass by grabbing the viewers' attention, creating long-lasting impressions and global recognition.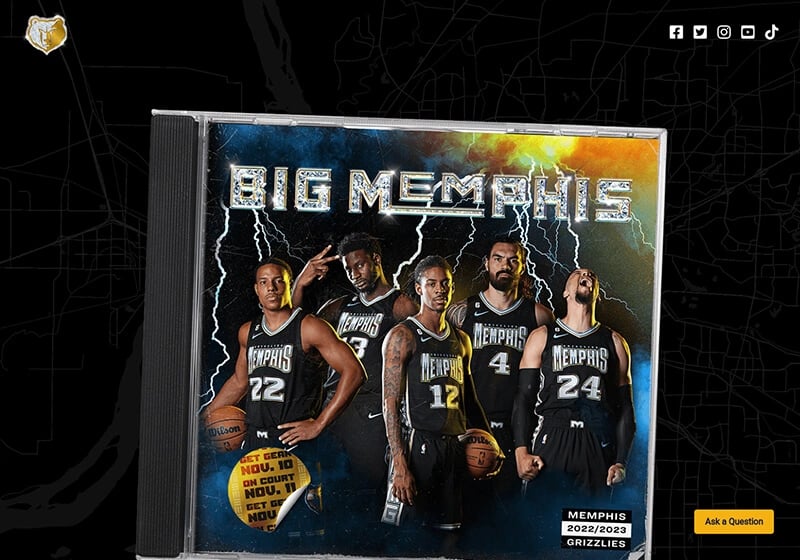 Objective
When creating the Memphis Grizzlies City Edition Uniform and Launch Campaign, it was imperative that we hit the following goals and objectives:
Celebrate the legacy and future of Memphis by telling our city's unique story about the bond between court, our community and city's culture.
Emphasize how we expanded past the core Grizzlies brand and focused on hyper-local stories that are unique to Memphis.
Highlight elements from our Grizzlies team, the ethos of city of Memphis, and the personalities our local fans in a way that shares our story globally.

Strategy & Execution
In order to engage the modern sports fan, we created a top-ranking City Edition Uniform and campaign around the uniform launch to tell the story. To do so, we focused on engaging with both our forever fans and new ones alike by highlighting our city's history, heritage and culture, while providing the city's current personality of our team.
We accomplished this by promoting Memphis basketball and its tie to the city culture, zeroing in on Memphis Music, Memphis vernacular and Memphis fashion.
Memphis hip-hop (Modern Memphis music genre), the neighborhoods and people from which the Memphis sound flows, and the fabric of modern day Memphis all took on big roles when creating the Grizzlies City Edition Uniform Launch Campaign. The launched tipped off with a music video featuring Glorilla, a nationally acclaimed rapper/hip-hop artist, born and raised in Memphis, TN. Other elements of the campaign included Memphis music themes (album cover looks), Memphis fashion (a blinged out, diamond and gold City Edition look) and local Memphis vernacular (Grit, Griddy, Big Memphis).
Organizations
Credits
Lauren Carnell
Vice President of Marketing
Memphis Grizzlies
John Pugliese
Executive Producer of Grind City Media and VP, Broadcasting & Production
Memphis Grizzlies