ABOUT THIS ENTRY
Each year we support the NFL's My Cause My Cleats campaign, and we aim to reimagine a standardized approach with a uniquely cohesive look across all platforms. The finished product integrated real-life set design and graphic design elements in order to showcase the players' cleats and causes in a new way.
How does this represent "Excellence in Engagement"?
While this is just the beginning of a new chapter, the work has spearheaded a more intentional approach to tentpole moments throughout the year—encouraging our team to carefully consider how content can come to life in a more holistic manner across all channels.
In years past, this was simply a collection of photos but the result of this year's campaign introduced a style that was truly one-of-one.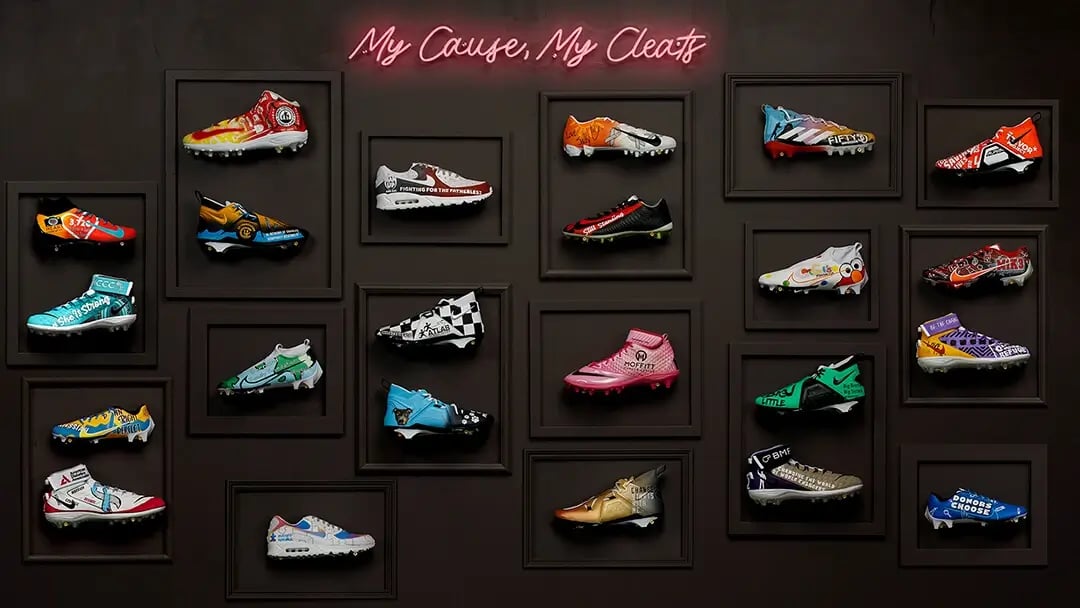 Objective
Overall, our goal was to establish a new look and feel for My Cause My Cleats that was consistent across all platforms and visually engaging.
By keeping the player cleats & stories as our focal point thru a unique lens, we could reimagine what's traditionally been shot only on a white background. We embraced a "distribution before production" mindset, which further enhanced our ability to capture content in a unique and compelling manner.
Each platform was carefully considered when concepting our set design and how we could bring this new vision to life.
Strategy & Execution
Moving away from standardized content capture, we set out to create a look that was visually engaging across all fan touchpoints.
Our set design took inspiration from modern gallery walls that could be repurposed for various platforms, allowing us to spotlight player cleats and stories in a whole new way while staying consistent with our campaign look and feel. The set also served as a canvas for our graphic designers, providing space to include custom elements that truly redefined what has come before in previous seasons.
This came to life via long-form storytelling on our team website, custom photo carousels for social and served as the backdrop to our video feature.