2023 Nominee ✨
Best Engagement Through Esports & Gaming
ABOUT THIS ENTRY
NACE Starleague, North America's largest collegiate esports league, wrapped its fall competition season with nearly 13,000 student-athletes from more than 650 schools and universities. The season-long success culminated in the latest installment of the collegiate esports league's "Grand Finals," which marked the league's return to live-action play for the first time since the onset of the COVID-19 pandemic. The two-day event took place in Philadelphia inside Nerd Street Localhost and was hosted by Villanova University.

Operated by Playfly Esports, the event included on-site broadcasters who were simultaneously streamed via the NACE Starleague Twitch channel.

By weekend's end, the event recorded over 789,000 live views, nearly 642,000 unique viewers, averaging more than 4,600 concurrent viewers, all contributing to NACE's season-long total of 5.5 million minutes watched. The event's total views marked a 103% increase in views from the Spring 2022 Grand Finals event held virtually.
How does this represent "Excellence in Engagement"?
The question of sustainability in esports has permeated to every corner of the ever-evolving industry. NACE Starleague's success in building a sustainable collegiate varsity competition system has proven there can be a solution that works to both entertain gaming fans and legitimize varsity esports at the collegiate level. The league has single-handedly increased the amount of North American colleges participating in esports from less than 100 total programs in 2018 to more than 700 in the Fall of 2022.

The league's impressive viewership numbers indicate, most simply, that interest is present and growing. This surging engagement will continue to fuel sponsor interest, as well as participation interest from schools who have yet to participate in NACE Starleague or consider adding esports to its on-campus offerings. Additionally, these streams are often produced, in-part, by students throughout the season, providing real-world career development.

When it comes to excellence in engagement, the results from NACE's Fall 2022 Grand Finals speak directly to the possibilities of collegiate esports competition when fueled by operational excellence and supported by integrated sponsorships. Bringing the competition to an in-person location and creating the high-stakes "live sports" environment familiar to stick and ball sports drew more eyes than ever.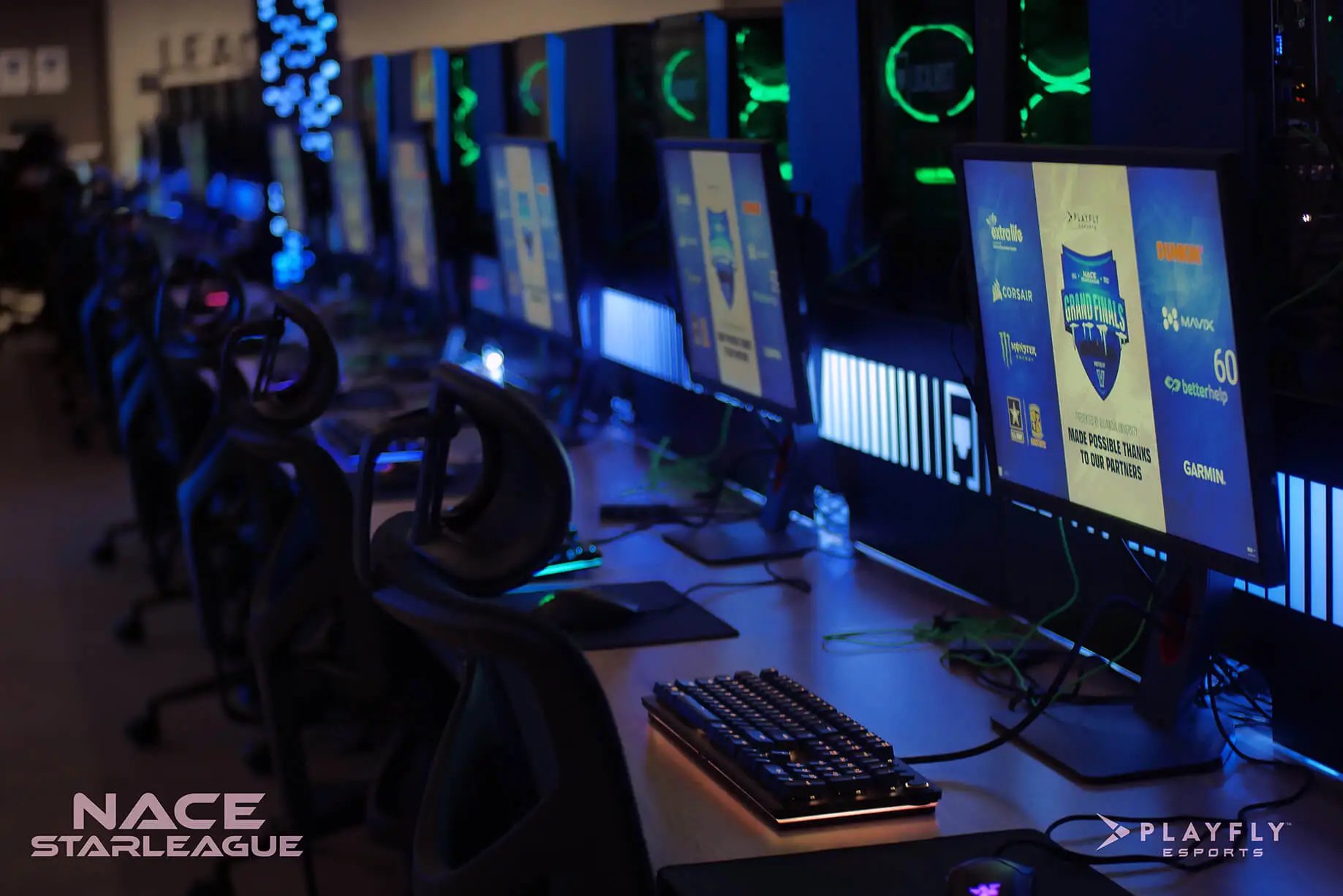 Objective
Return championship play of NACE Starleague to an in-person event format
Create a seamless simultaneous broadcast via Twitch for digital fans and viewers
Attract endemic and non-endemic sponsors to integrate into the event
Host a memorable and exciting event for collegiate esports teams from across the country
Strategy & Execution
Hosted at Philadelphia's Nerd Street Localhost, which included lit competition floor, room and connectivity for live broadcast, and ample space for fan seating.
Presented by Villanova University as a natural connection to the host city and operating company, Playfly Sports (who has an exclusive MMR partnership with Villanova Athletics).
Scholarship prizing awarded: $31,000
Gameplay spread across two days
Free fan admission
Custom digital posters for winners by artist @_nikanono
Talent hired: Zach Vinson, Carlos Braadt, Jonathan Szuch, Jonah Zwillinger, Alex McCormish, Amber Cipriano, Alex Whieldon, Matt Samuelson, Dakota Lasky, Rodney Conyers, Jr., Mat Corfee, and Warren Hammond
Sponsors with social-based giveaways: Corsair, Garmin, Mavix
Additional Sponsors: Extra Life, Monster Energy, U.S. Army/Army ROTC, Dunkin', Betterhelp