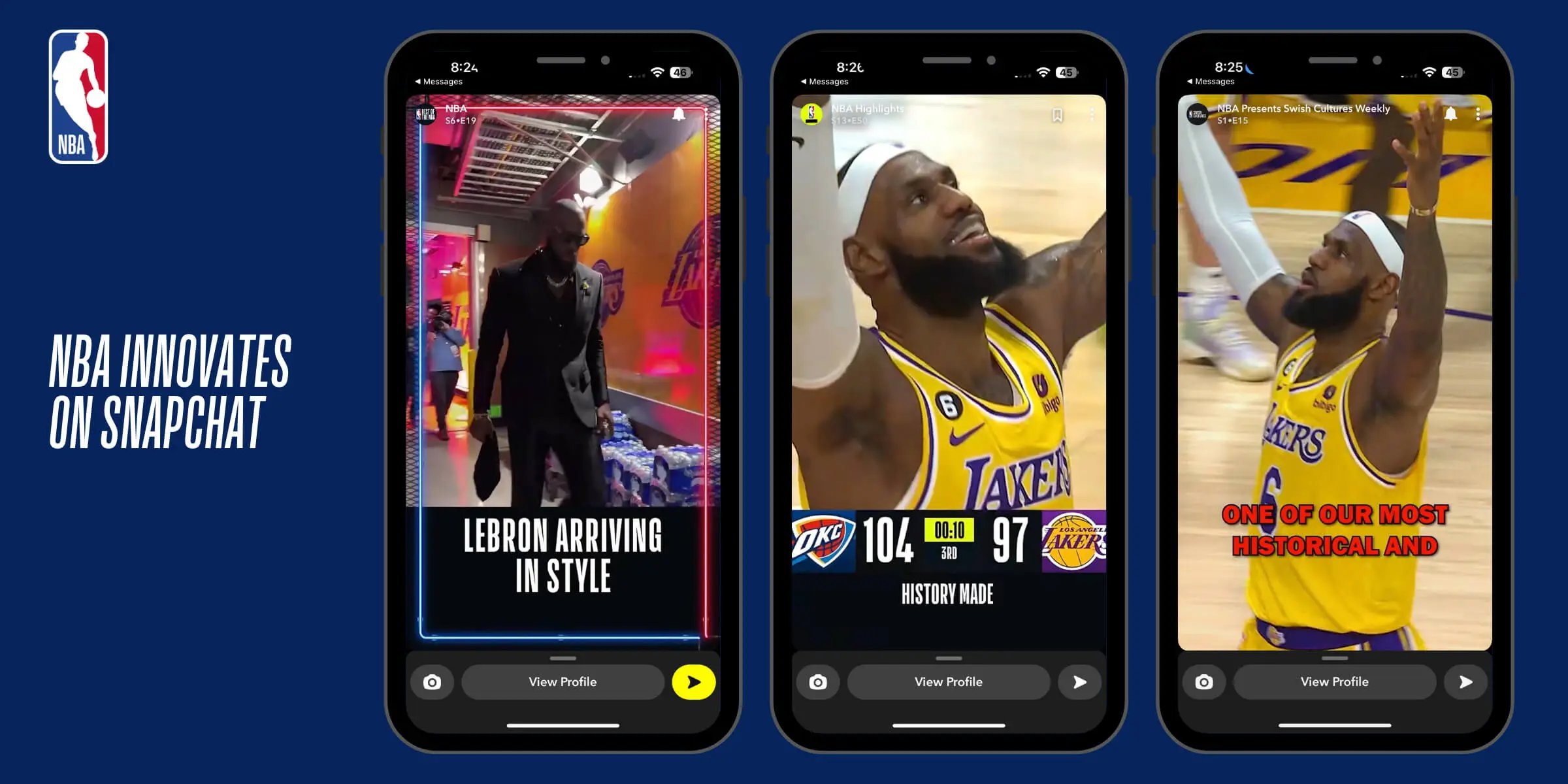 ABOUT THIS ENTRY
During the submission timeframe, the NBA continued to build out unique Snapchat programming using on-platform tools and features. This robust content offering includes Spotlight, My Story, the nightly "NBA Highlights" show, weekly "Best of the NBA" show and a new creator-driven "NBA Presents Swish Cultures Weekly" show. This submission details this innovative content offering and the strategy it takes to achieve success.
How does this represent "Excellence in Engagement"?
The NBA on Snapchat offers an incredibly robust content offering that is unique to the platform and targets our youngest demographic through quality, speed, and consistency on a daily, nightly, and weekly basis.
With the consumption success we've seen on the platform, and our goal of using new products and innovating new shows for the NBA's audience, the NBA continues to focus on developing strategies to deploy around these trends to stay at the forefront of excellence in engagement on Snapchat.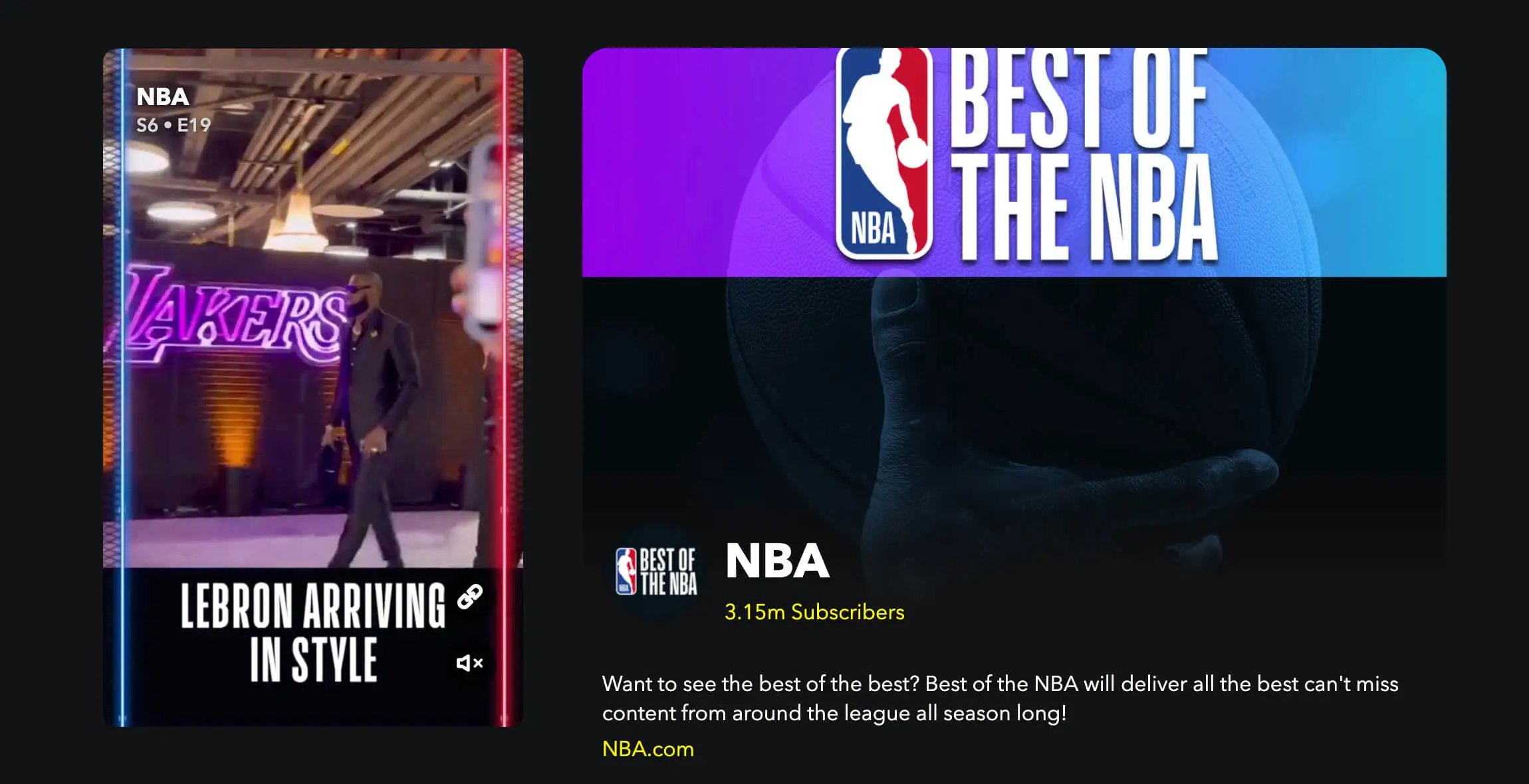 Objective
The objective for the NBA on Snapchat is to reach and engage with a young demographic of NBA fans by providing them with compelling NBA content. This is done through a variety of on-platform placements such as Snapchat Spotlight, My Story, Shows, and more. Each of these offers a unique experience to the NBA fan.

For the first time ever, the NBA has developed a creator-driven show in partnership with 'Swish Cultures' called "NBA Presents Swish Cultures Weekly. Each week, Swish Cultures breaks down the top moments of the week for NBA fans on Snapchat through an engaging show.

Additionally, the NBA produces a nightly "NBA Highlights" show and a weekly "Best of the NBA Show" which ensures NBA fans on Snapchat are seeing all the best content from around the league.

Finally, the NBA has programmed Spotlight to be the vertical content home of clips of the league's top highlights, moments, and behind-the-scenes access elements.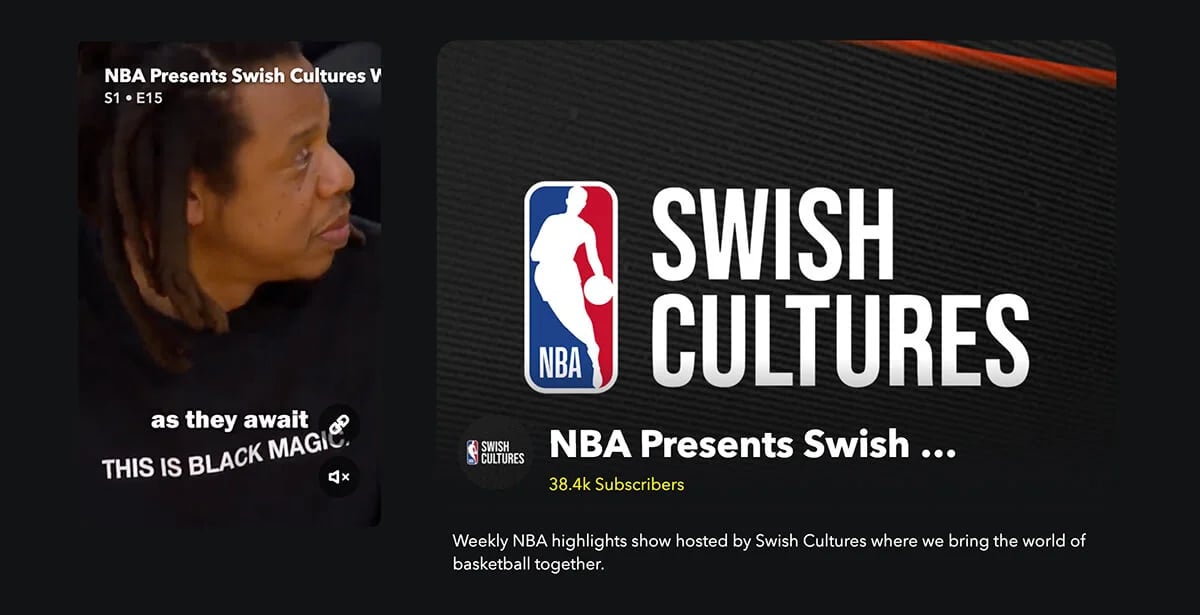 Strategy & Execution
The 2022-23 NBA Season has provided an incredible amount of special moments and highlights on a daily basis. These moments are shared with fans across the NBA's presence on Snapchat.

Throughout the lead-up to becoming the NBA's All-Time Leading Scorer, fans were able to watch LeBron James' arrival, warm up, and behind-the-scenes of the locker room in My Story.
The "NBA Highlights" show covered every moment from his arrival to his top baskets—as he approached the milestone—to the celebration of the big moment. Snapchat Spotlight was programmed with the best highlights and moments of the night, including Bronny James and Bryce James' point-of-view (POV) of their father breaking the record—which reached over 1.5 million video views.
Following the celebration, the weekly "Best of the NBA" show was solely focused on the night LeBron James became the #ScoringKing. And, "NBA Presents Swish Cultures Weekly" also covered this special moment.
Organizations
Credits
Andrew Yaffe
Senior Vice President, Head of Social, Digital & Original Content
NBA
Bob Carney
Senior Vice President, Social and Digital Content
NBA
Ashley Atwell
Associate Vice President, Social and Emerging Media
NBA
Justin D'Apolito
Director, Social Content
NBA
Jenny Fischer
Manager, Social Content
NBA
Adam Fedorko
Associate Vice President, Social and Digital Content Creation
NBA
Carly Nevis
Associate Manager, Social and Digital Content Creation
NBA
Peter Richter
Director, Social and Digital Content Design
NBA
Leah Berry
Senior Manager, Social and Digital Content Creation
NBA
Jerry Jones Jr.
Manager, Social and Digital Content Design
NBA
Anthony Ottomano
Manager, Social and Digital Content Creation
NBA
Maggie Engellenner
Senior Manager, New Media Content Partnerships
NBA
Mariah Bailey
Associate Manager, New Media Content Partnerships
NBA
Kevin Esteves
Associate Vice President, Content Strategy & Business Intelligence
NBA
Iveta Karapetian
Director, Digital Content Analyst
NBA
Yisel Taveras
Associate Manager, Digital Content Analyst
NBA
Shane Smith
Production Assistant, Social and Digital Content Creation
NBA
Adam Brody
Manager, Social and Digital Content Creation
NBA
Jordan Richard
Fouunder and CEO, Swish Cultures
Swish Cultures
Ashten Smith-Gooden
Co-Founder and COO, Swish Cultures
Swish Cultures
Victoria Guerrero
Project Employee, NBA Social Content
NBA
Mesha Mosley
Project Employee, NBA Social Content
NBA
Lauren Yelner
Project Employee, NBA Social Content
NBA
Tremayne Blair
Senior Production Assistant, Social and Digital Content Creation
NBA
James Johnson
Social Senior Video Editor
NBA
Quincy Young
Social Video Editor
NBA