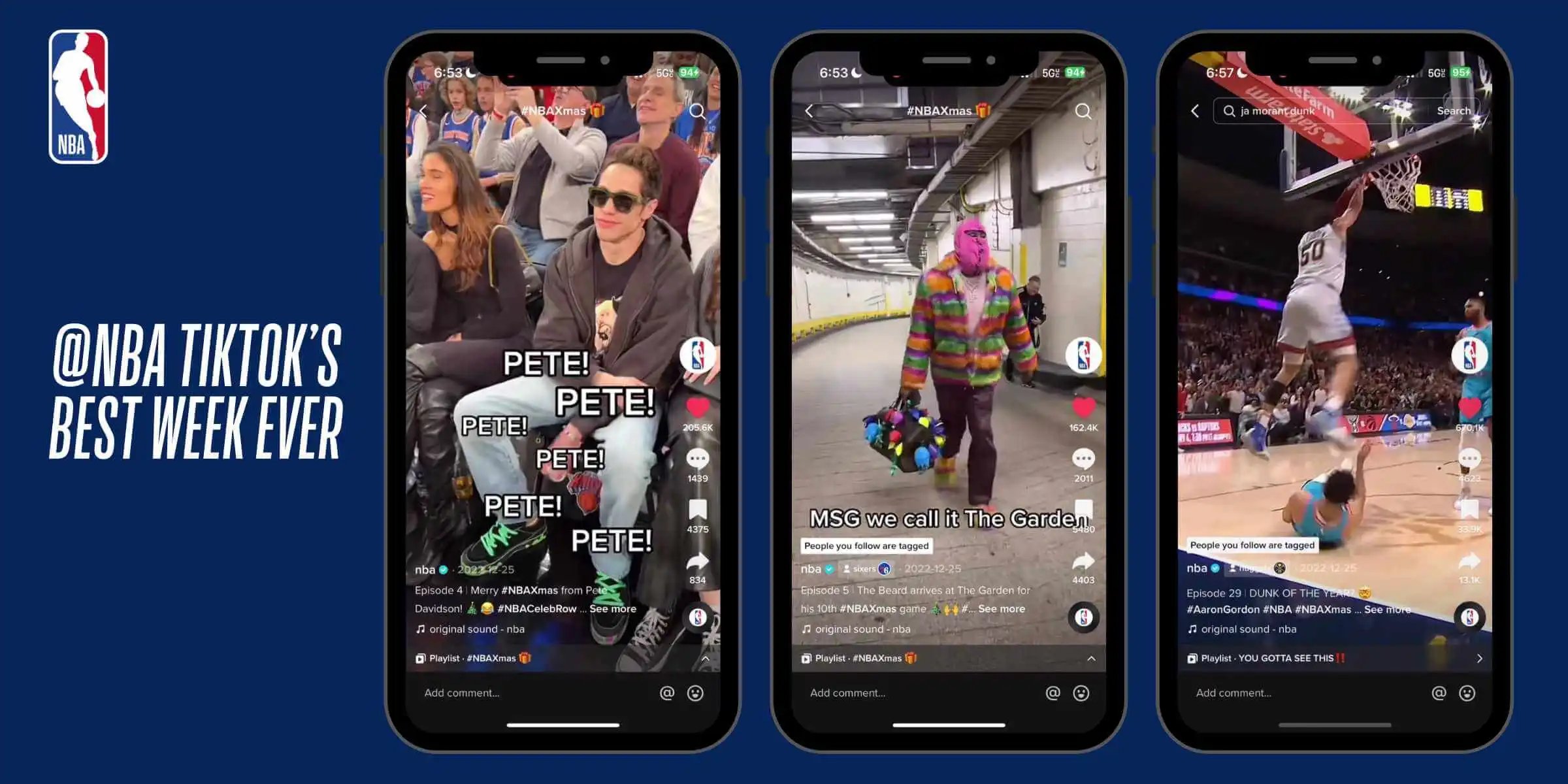 ABOUT THIS ENTRY
The @NBA TikTok account is reaching 19 million followers and had its best regular season week ever during the 2022-23 NBA Season. During the celebration of the NBA Christmas Day (#NBAXmas) games and the days surrounding it, @NBA TikTok surpassed 107 million video views - which is +2,685% year-over-year - through content taking fans behind the scenes of one of the league's biggest tentpole events.
How does this represent "Excellence in Engagement"?
The NBA has continued to meet NBA fans where they are and engage them in the most optimal format possible. @NBA TikTok has leaned into the highly-engaging vertical video format on the platform to engage fans through up-close, behind-the-scenes access celebrating the best moments from players, celebrities, and fans.
The NBA has had a presence on the platform since 2016 and @NBA TikTok continues to grow and develop innovative content for the platform. This work will continue to inspire and move the industry forward by setting the standard as a top-followed sports league account on TikTok, showcasing consistent engagement through video views and follower growth.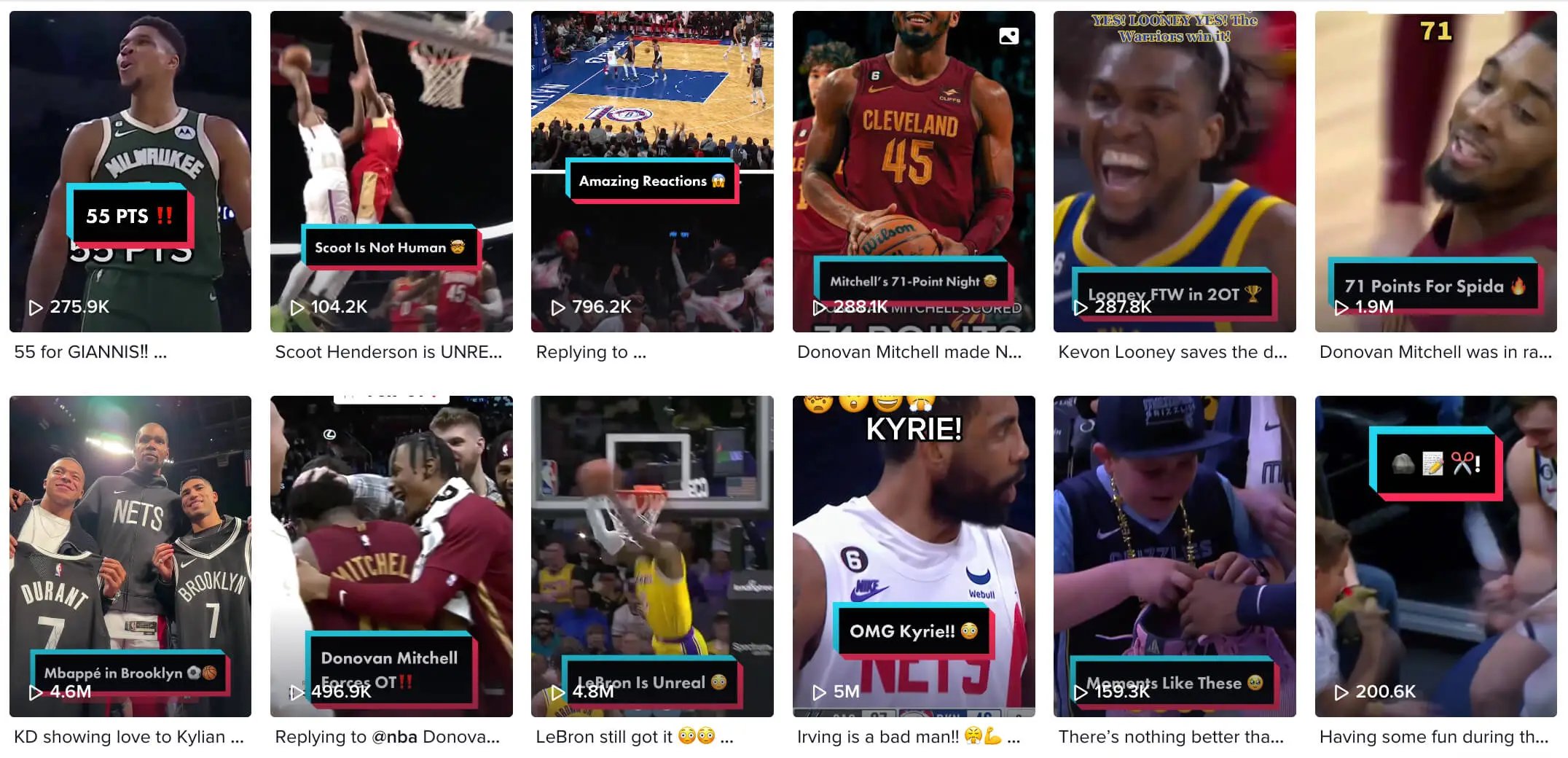 Objective
The goals and objectives for @NBA TikTok are to reach a younger audience of NBA fans on a highly-engaging platform. @NBA provides fans with the top behind-the-scenes access moments, highlights, and all the funny, sentimental, and emotional moments from around the league.
@NBA TikTok allows fans to get closer to the game and interact with other fans and the NBA in the comments - creating engagement across the NBA community. The NBA has had a presence on TikTok since it was Musical.ly and @NBA continues to innovate new content executions on the platform.
Strategy & Execution
Learning from past success on TikTok, @NBA leaned into covering the top moments from around the league through a highly-engaging vertical video format.
Aaron Gordon's potential dunk of the year was posted in real-time on @NBA TikTok and earned 13 million video views - a top-5 video to date for @NBA TikTok. This was curated with the modern sports fan in mind with the addition of keying emojis on-screen as the ball was slammed through the net, as well as showcasing a replay to pair with Richard Jefferson's iconic "drink this in with your eyes" broadcast call.
James Harden's multicolored arrival outfit paired with him saying "10 Christmas Day Games?! That's a blessing" from @NBA TikTok's behind-the-scenes access accumulated 2.9 million video views. The @NBA TikTok team leveraged insights from the successful performance of lifestyle content to lean into this moment on #NBAXmas.
Finally, comedian Pete Davidson's appearance at Madison Square Garden earned 5.4 million video views. Access content of celebrities at games has performed well on @NBA TikTok, leading the strategy to develop content for this platform that resonates with @NBA's young audience.
Organizations
Credits
Andrew Yaffe
SVP, Head of Social, Digital & Original Content
NBA
Bob Carney
SVP, Social & Digital Content
NBA
Ashley Atwell
AVP, Social & Emerging Media
NBA
Justin D'Apolito
Director, Social Content
NBA
Jenny Fischer
Manager, Social Content
NBA
Adam Fedorko
AVP, Social & Digital Content Creation
NBA
Leah Berry
Senior Manager, Social & Digital Content Creation
NBA
Adam Brody
Manager, Social & Digital Content Creation
NBA
Carly Nevis
Associate Manager, Social & Digital Content Creation
NBA
Maggie Engellenner
Senior Manager, New Media Content Partnerships
NBA
Mariah Bailey
Associate Manager, New Media Content Partnerships
NBA
Kevin Esteves
Associate Vice President, Content Strategy & Business Intelligence
NBA
Iveta Karapetian
Director, Digital Content Analyst
NBA
Yisel Taveras
Associate Manager, Digital Content Analyst
NBA
Anthony Ottomano
Manager, Social & Digital Content Creation
NBA
Victoria Guerrero
Project Employee, NBA Social Content
NBA
Mesha Mosley
Project Employee, NBA Social Content
NBA
Lauren Yelner
Project Employee, NBA Social Content
NBA