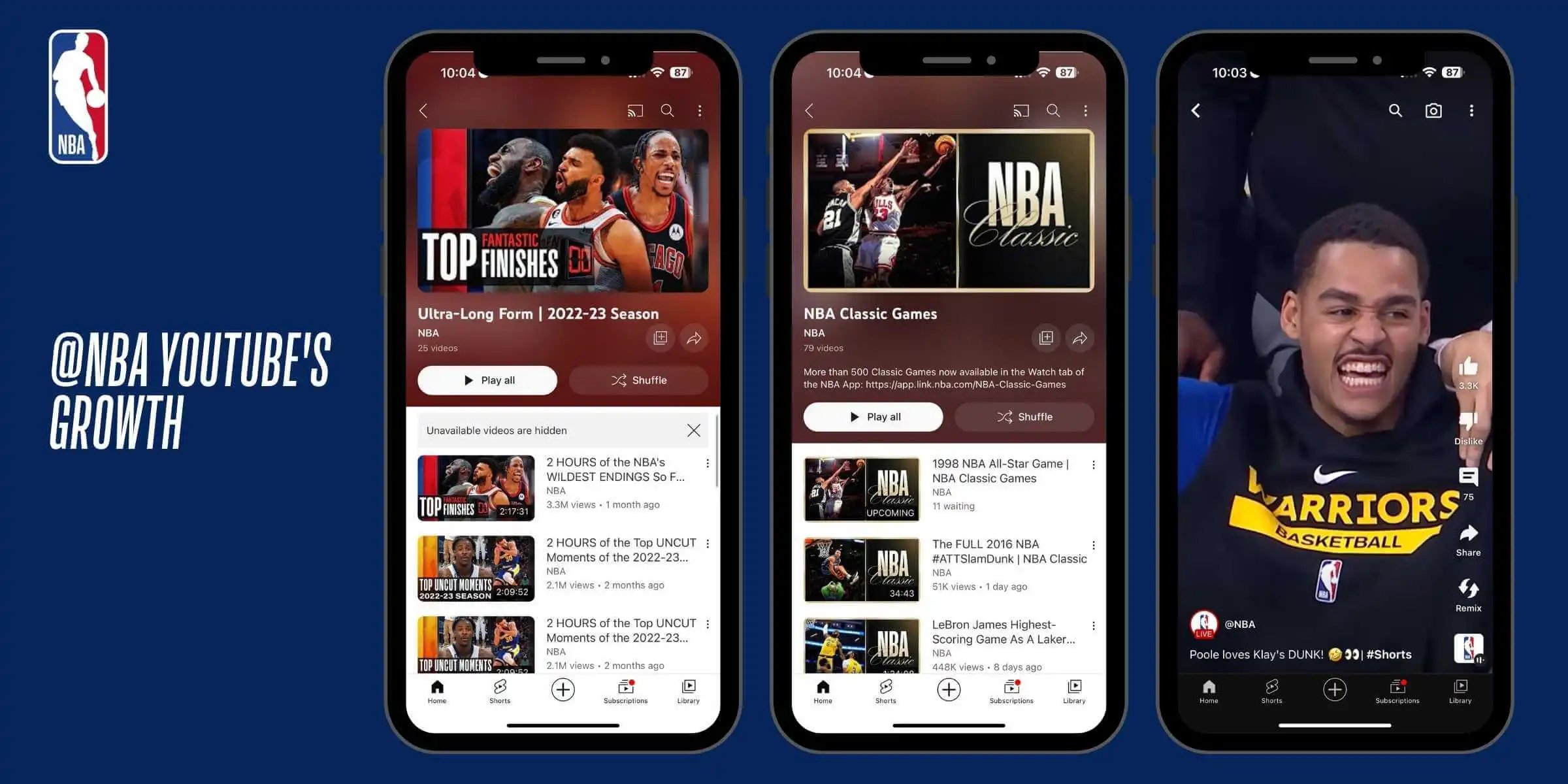 ABOUT THIS ENTRY
2022 marked the NBA YouTube channel's best year ever—surpassing 19 million subscribers and reaching 11 billion video views. This submission details the growth and innovation of NBA YouTube during the submission timeframe.
How does this represent "Excellence in Engagement"?
The NBA YouTube channel's exponential growth to 11 billion lifetime channel views during the submission timeframe is a testament to the quality, speed and consistency of content that the NBA creates for and publishes to the @NBA YouTube channel. We are reaching and engaging the global fans of the NBA, and our optimization of YouTube truly creates consumption at the highest level—resulting in 232.5 million watch hours from fans around the world during the submission timeframe. With the engagement success on the @NBA YouTube channel, and the goal of optimizing for new trends in content consumption between shortform, longform and ultra-long form content, the NBA continues to focus on quickly developing strategies to deploy around these trends to stay competitive on YouTube.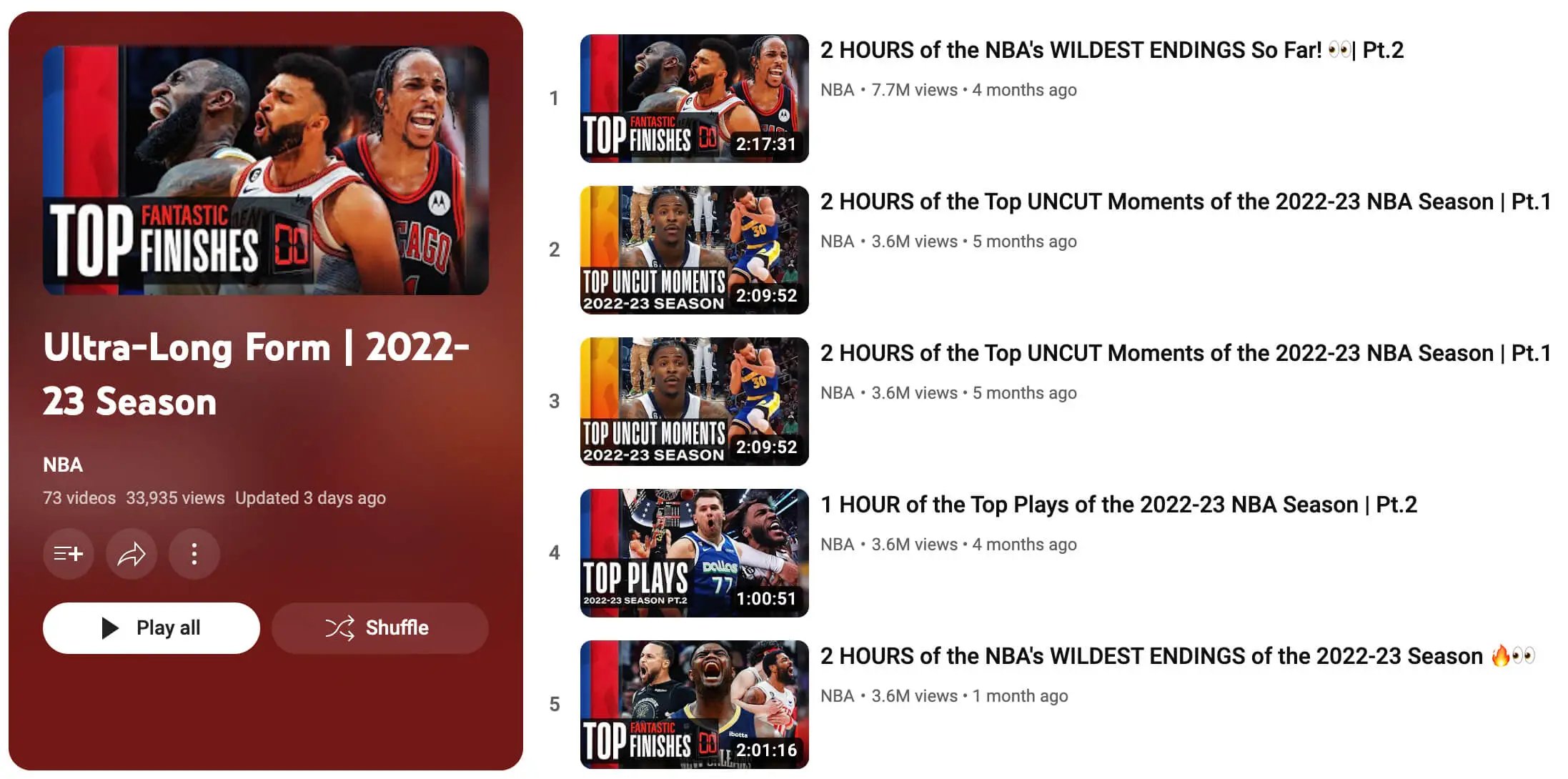 Objective
Since launching the channel in 2005, the NBA's primary objective on YouTube has been to reach and engage fans across the world. The consistency and commitment to that mission, along with the attention to evolving data trends, has helped the NBA build one of the largest sports communities on the platform. During the submission timeframe, the compound effects of years of optimization continued in record-setting engagement and reach.
In 2022, the NBA YouTube channel eclipsed 1.94 billion views—the most in a calendar year for the league. Additionally, as of February 2023, the channel exceeded 11.6 billion total views and is nearing 20 million subscribers—a testament to the commitment of engaging the global fan and audience.
Strategy & Execution
The NBA has taken a strategic approach to innovating the NBA's YouTube channel by focusing on daily, monthly and yearly franchises to increase watch time and reach new audiences. Additionally, NBA YouTube is experimenting with new ways to engage with fans through on-platform tools such as Shorts, Story, Community and ultra-long form content (1-hour+).
From multiple in-arena angles, to mic'd up access, to behind-the-scenes access vertical video in Shorts&mash;fans are able to dive deeper and learn more about the NBA through the NBA's YouTube channel. One example of innovation is a new "ultra-long form" video franchise, where NBA YouTube publishes 1-2 hour videos featuring must-see content from the night, in addition to monthly Classic Games. The goal is to reach new audiences across devices outside of mobile&mash;such as connected devices - and increase watch hours.
The NBA YouTube channel is leaning into optimizing the best content from around the league through short-form videos on Shorts and ultra-long form videos on the channel.
Organizations
Credits
Andrew Yaffe
SVP, Head of Social, Digital & Original Content
NBA
Bob Carney
SVP, Social & Digital Content
NBA
Ashley Atwell
AVP, Social & Emerging Media
NBA
Justin D'Apolito
Director, Social Content
NBA
Jenny Fischer
Manager, Social Content
NBA
Adam Fedorko
AVP, Social & Digital Content Creation
NBA
Leah Berry
Senior Manager, Social & Digital Content Creation
NBA
Adam Brody
Manager, Social & Digital Content Creation
NBA
Carly Nevis
Associate Manager, Social & Digital Content Creation
NBA
Maggie Engellenner
Senior Manager, New Media Content Partnerships
NBA
Mariah Bailey
Associate Manager, New Media Content Partnerships
NBA
Kevin Esteves
Associate Vice President, Content Strategy & Business Intelligence
NBA
Iveta Karapetian
Director, Digital Content Analyst
NBA
Yisel Taveras
Associate Manager, Digital Content Analyst
NBA
Anthony Ottomano
Manager, Social & Digital Content Creation
NBA
Victoria Guerrero
Project Employee, NBA Social Content
NBA
Mesha Mosley
Project Employee, NBA Social Content
NBA
Lauren Yelner
Project Employee, NBA Social Content
NBA