Winner 🏆
Nominee 2x ✨
Instagram
Best Engagement for Good
ABOUT THIS ENTRY
Nedd Brockmann set out to change the world one step at a time. This is the story of how a 23-year-old electrician became the most talked about Aussie in 2022, grabbed global attention, inspired millions, and raised $2.6m for the homeless.
How does this represent "Excellence in Engagement"?
Nedd and PUMA set the benchmark for connecting with fans beyond social media, into the real world.

Competition for fans' attention has never been greater, but together, we created a campaign that had hundreds of thousands of fans around the world glued to Nedd's daily struggle, for 47 days straight.

We proved that nothing beats a good underdog story. Nedd shared all of himself: the highs, the anger, the fear, the tears & the physical scars. And people responded.

Nedd's support from his fans literally fuelled his quest. The people helped him cross the line. They came from Instagram to gather along the roadside throughout his journey.

Over 10,000 people flocked to the famous Bondi Beach on a working day to watch Nedd cross the finish line - in scenes that have never been seen before in Australia. They watched as Nedd performed a famous 'Shoey' drinking champagne out of his PUMA running shoe.

We set the benchmark for fan engagement across any type of event.

Nedd's run is an inspiration to everyone out there with a big dream. He has shown that with a genuine story, challenging yourself for other people will resonate and receive incredible support.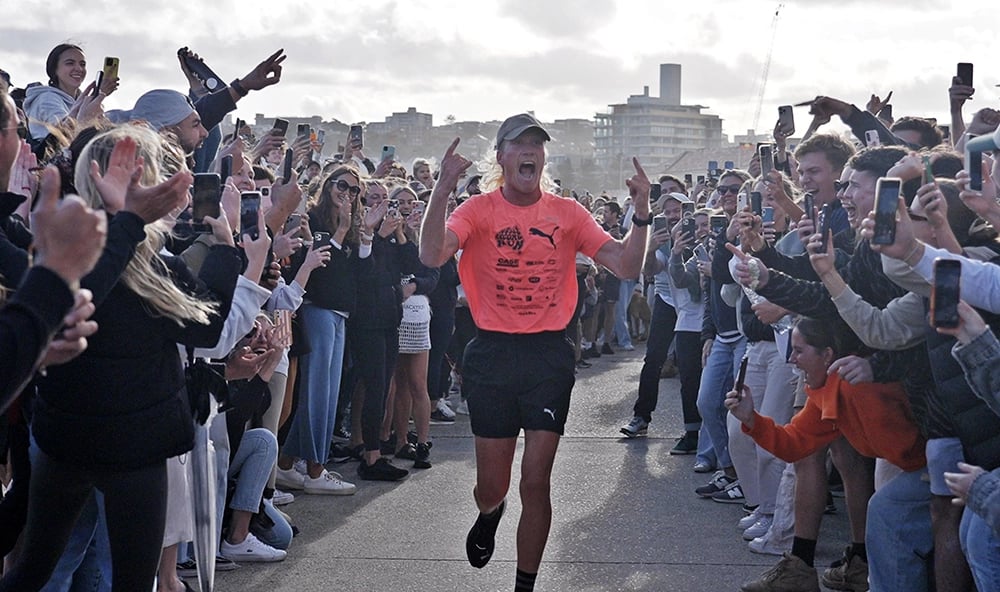 Objective
Nedd Brockmann had a goal—to run across Australia—faster than anyone ever has.
He wanted to inspire people to do more. More for themselves and more for the homeless.
The catch? Nedd was relatively new to running, wasn't famous, and he had no money. He had no idea where to start—except the start line!
Nedd needed help, a partner to bring his vision to life. And Bursty stepped up to run a pro bono campaign across content, social, creative, commercial, events, and activation.
Nedd has always been moved by the struggle of Australia's homeless people. When Nedd arrived in Sydney and witnessed their daily struggle, he wanted to do something about it.
Originally from a small country town, Nedd wanted to undertake a feat that would capture the attention of all Australians, to share his message: Homelessness should not equal hopelessness.
He set his sights on the World Record for the fastest run across Australia: 3,952km in 43 days. He aimed to raise $1m for homelessness in the process.
The Bursty crew believed in this young man with a vision. We believed he could make a real difference to the plight of homeless Aussies. And we wanted to help.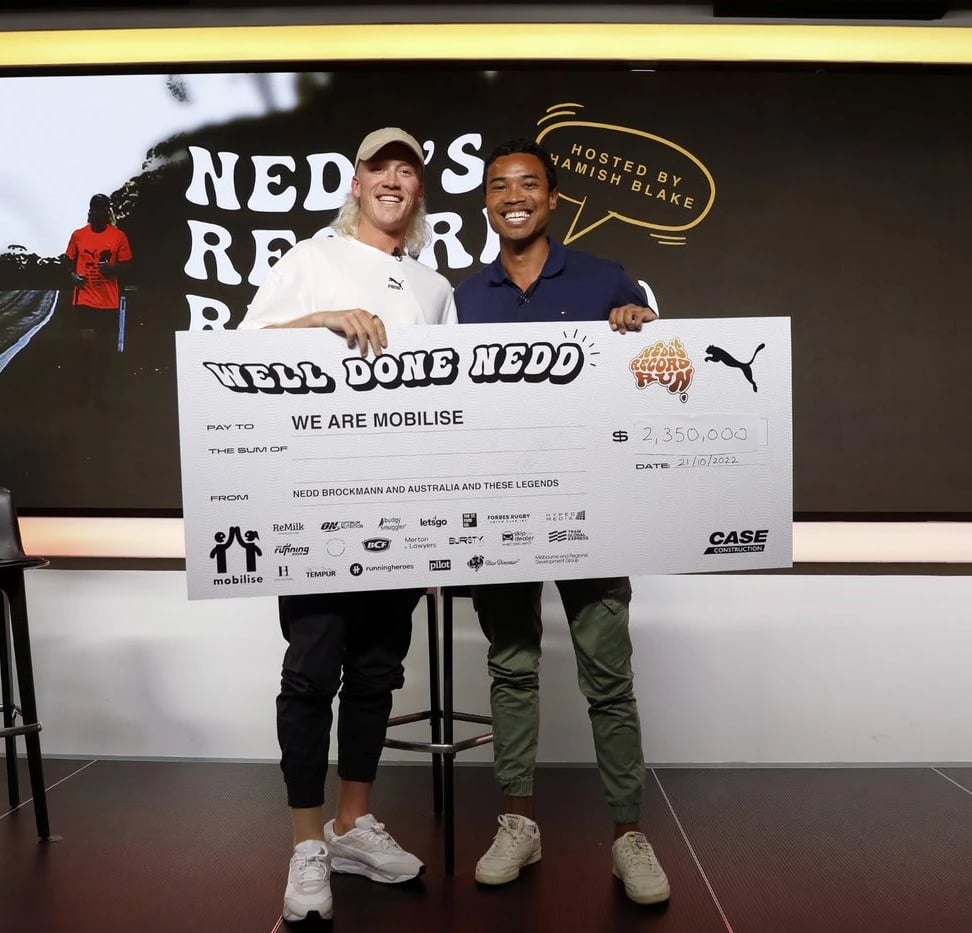 Strategy & Execution
Strategy:
Modern sports fans want to support the causes they believe in.
The problem is there are thousands of deserving charities.
For Nedd's mission to cut through, we needed a campaign like no other and we needed him to cut through in a very cluttered market.
So alongside Nedd we created a strategy to share every aspect of his run - his blisters, fractures, infections-and-all journey.
Execution:
Every aspect of the campaign was designed to maximize net funds raised for charity.
Nedd launched his run on national breakfast TV. In his underwear because he had no sponsors.
We helped Nedd share his mission with anyone who'd listen. Podcasts; TV; radio; print; we got him free publicity everywhere.
We signed PUMA as Nedd's Major Sponsor.
To save money, we found sponsors to donate support vehicles, gear, food, coffee, and anything that could help.
We sent a photographer and videographer on the journey to document Nedd's every step and showcase the enormity of his challenge—and he used his Instagram channel to provide incredible daily updates.
We made call-outs for fans to gather and experience Nedd's run from the roadside at key locations.
We built a sense of social responsibility & activism - homelessness is every Australian's problem.