ABOUT THIS ENTRY
Launched in September of 2022, "New Heights with Jason & Travis Kelce" has quickly grown to become a sports and pop culture phenomenon, the #1 Sports Podcast on Apple and Spotify, and as of February 16 the #1 and #2 overall podcast on those platforms, respectively.
How does this represent "Excellence in Engagement"?
In 5 months "New Heights" has become the #1 overall podcast on Apple, amassed over 2 million followers online, and earned a place in the sports and pop culture zeitgeist that was on display during Super Bowl week in countless ways, including an exclusive episode premiere with Good Morning America.
We believe it has set a new standard for how athletes can leverage their unique perspectives and personality and the community-building tools available on social media to create digital programming that penetrates mainstream culture and brings fans and players closer together.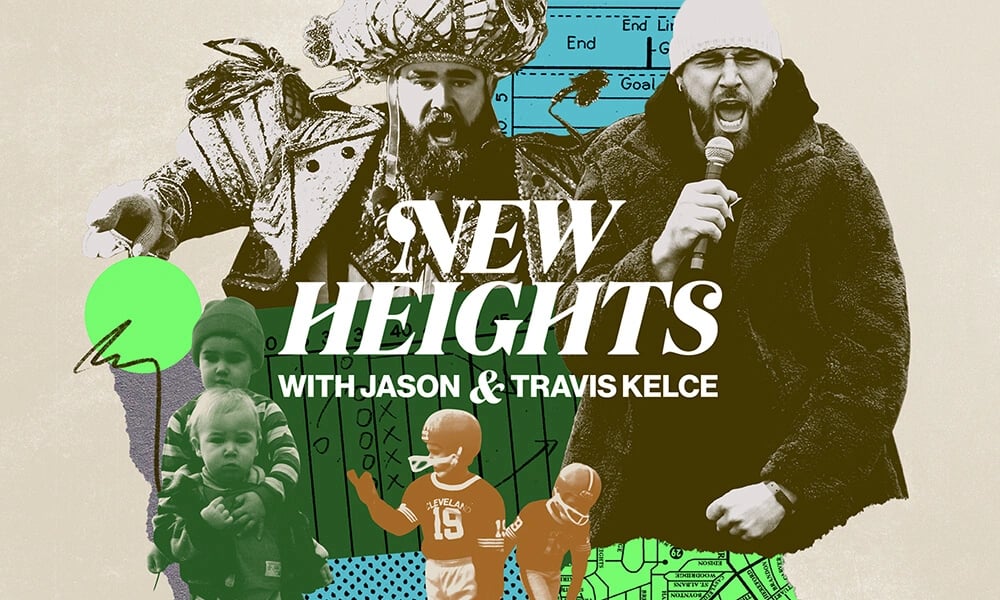 Objective
WSE initially set out to create a digital series featuring NFL players that could provide fans unparalleled access and candid insights into the NFL. When we heard the Kelce Brothers were interested we felt we had found the perfect fit.
As beloved NFL veterans, we knew fans would be eager to hear their inside stories of life in the League, and as brothers we knew their chemistry would create an authentic and candid atmosphere that couldn't be found elsewhere. The primary creative goal was to showcase the unique perspective, journey, and bond of brothers who went from backyard ball in Cleveland Heights to future Hall of Fame NFL players.
We leaned into their talents, stature, and unique shared experience and combined this with WSE's unparalleled social media reach (100m+ followers) and social content expertise to build a hit show capable of reaching the top of the podcast charts and developing a massive community of fans.
Strategy & Execution
First, we believed this show could stand out from the large crowd of athlete-centric podcasts by supplementing the audio output with a strong video presence across YouTube and social media platforms.
YouTube is quickly becoming the preferred podcast platform for modern consumers, and we knew that in order to maximize the impact of this show we had to reach fans on video-centric platforms.
To achieve this, we created TikTok, Instagram, YouTube, and Twitter accounts, and in addition to editing the full-length episodes, we also prioritized a high volume of 60-second 'shorts'-style videos to populate these pages. This strategy quickly proved to be a viral one, as these shorts fueled awareness, viewership, and community growth for the show. In the 5 months since the series launch we've accumulated 2 million cross-platform followers, including over 1 million on TikTok.
Most importantly, in the highly saturated, highly competitive digital content space it is essential that the on-air talent offer a unique perspective that cuts through the noise and connects with people on an authentic level. The genuine personalities, brotherly chemistry, and candid insights that the Kelce brothers bring accomplished exactly that.