2023 Nominee ✨
Best Use of Motion Graphics or Animation
ABOUT THIS ENTRY
While brainstorming for the highly-anticipated NBA schedule release, our team wanted to create a video to showcase our schedule that aligns with the Nuggets, the city of Denver, and the Rocky Mountain region.
We landed on the idea of tying in these aspects through a Nuggets version of the video game, The Oregon Trail.
How does this represent "Excellence in Engagement"?
This was our first "long form animation" piece from our content team. We wanted to test our limits and creativity with the NBA schedule release. We wanted to show our fans that this kind of content is possible from their favorite team and that we could go a step further than a static graphic.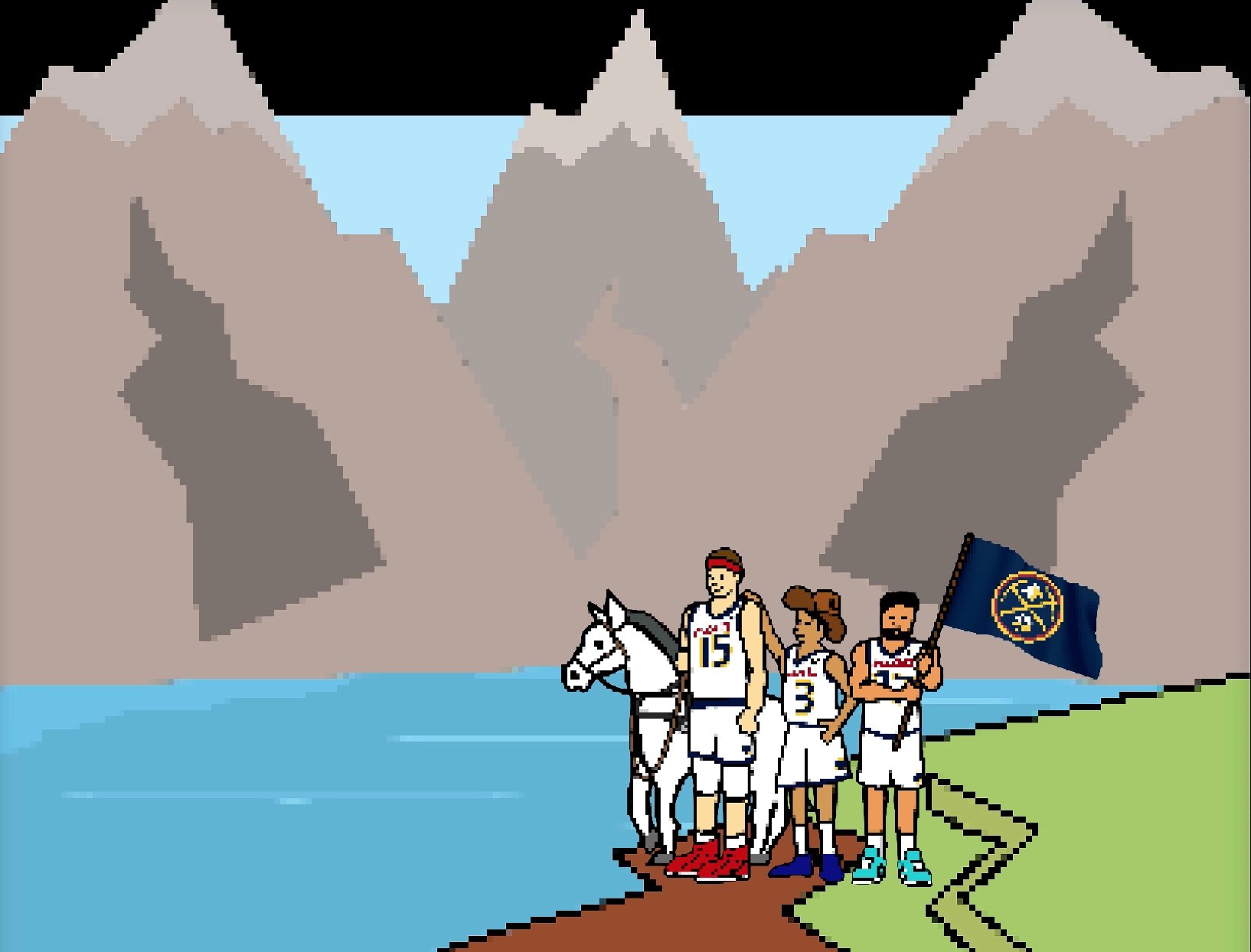 Objective
We wanted to use the inspiration and concept of the throwback video game, The Oregon Trail, to bring the Denver Nuggets' schedule to life in a creative and engaging way. We came up with marquee matchups and "obstacles" that our top 3 players would face along the journey to the playoffs. We wanted to tie in sports and video games for this highly anticipated release.
Strategy & Execution
This was a complete team effort to tie the biggest games on our schedule into a throwback video game. We collaborated and brainstormed as a team to come up with what the "video game" would look like and how the Nuggets brand would tie into the look and feel.
Some of the critical features we showcased were the storyline and "obstacles" the characters faced along the way. For each match-up on our schedule, we determined what our players would "face" on the trail on their way to each game and what they would have to "defeat" to get to the next opponent.
Our designers had to create each background, character, and element with the same feel as The Oregon Trail, which took a lot of time and attention to detail. From our graphics team to our motion designer, this "game" came to life and allowed our future season "story" to be told in a captivating way with the style and flare of a video-game.
Organizations
Credits
Hali Oughton
Director, Social Media & Digital Content
Kroenke Sports & Entertainment
Jared Harding
VP & Executive Producer
Kroenke Sports & Entertainment
Bryan Smith
Manager of Digital Design
Kroenke Sports & Entertainment
Daniel Slovis
Digital Graphic Coordinator
Kroenke Sports & Entertainment
Matheus Peulen
Sr. Graphic Designer
Kroenke Sports & Entertainment
Jaelyn Hershberger
Motion Graphic Designer
Kroenke Sports & Entertainment
Henry Collins
Social Media Coordinator
Kroenke Sports & Entertainment
Megan Goldin
Content Strategist
Kroenke Sports & Entertainment
Sizhe Liu
Digital Content Strategist
Kroenke Sports & Entertainment
Sarah Pineda
Manager, Social Media & Digital Content
Kroenke Sports & Entertainment
Francesco Todaro
Director, Digital Video/Creative Production
Kroenke Sports & Entertainment
Shayna Glazer
Manager, Digital Video Production
Kroenke Sports & Entertainment
JT Brown
Digital Video Editor
Kroenke Sports & Entertainment
Austin Carriere
Digital Video Producer/Editor
Kroenke Sports & Entertainment