2023 Nominee ✨
Best Use of Motion Graphics or Animation
ABOUT THIS ENTRY
This immersive piece of content took viewers on a journey through a full Pacers game experience. Starting at the Gainbridge Fieldhouse, then showcasing the stadium's inner workings, giving a sneak peak into the locker room, and finally ending at center court, allowing viewers to picture themselves at the stadium.
This project was the result of extensive dedication, careful storyboarding, and an unwavering focus on detail, resulting in a truly impactful illustration that engages all the senses. Every aspect of the animation, from the illustrations to the sound effects, was executed with precision, making for an unforgettable fan experience.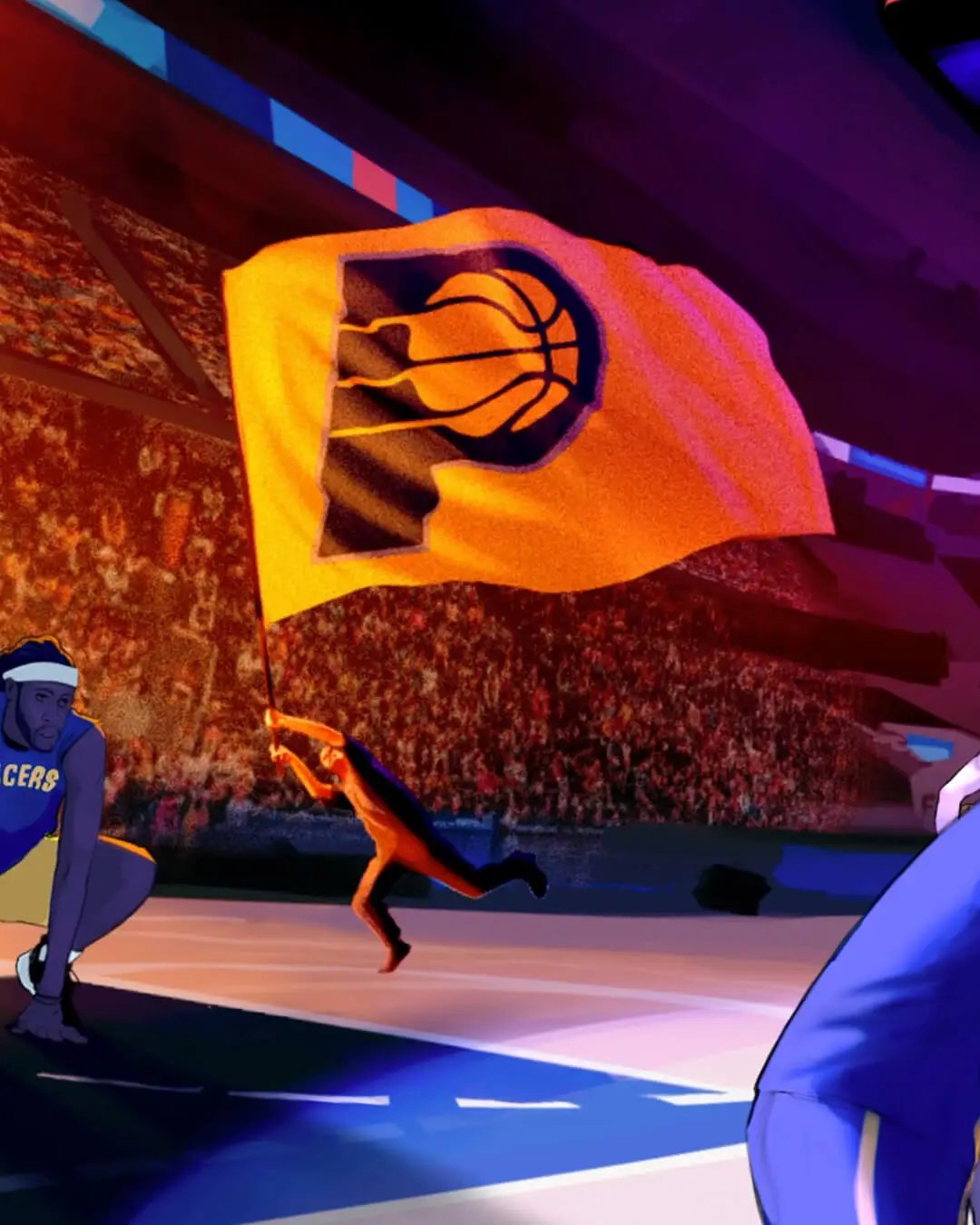 How does this represent "Excellence in Engagement"?
With its intricate and seamless design, the Infinite Zoom project set a new benchmark in fan engagement and appreciation. The animation captured the emotions and experiences of being a Pacers fan, bringing fans closer to the team and their passion. This level of detail and execution sets the piece apart from other Infinite zoom pieces and demonstrates the power of creative storytelling in achieving effective engagement.
The impact of this piece has been felt not just by Pacers fans but by the sports and entertainment industry as a whole. It serves as inspiration for future fan engagement initiatives and pushes the industry forward in terms of the use of motion graphics and animation to create immersive and impactful experiences.
Objective
The objective was to bring fans closer to the Indiana Pacers and provide a window into the inner workings of the Gainbridge Fieldhouse and the team itself, aiming to create a truly unforgettable and impactful experience for fans. The opening night of the 2022-23 season marked a special moment for the team and its fans, and this project sought to capture the excitement and energy of the occasion in a unique and innovative way.
Strategy & Execution
The goal was to capture the excitement and energy of the Indiana Pacers' opening night, which focused on fan engagement and immersion. With fan excitement being a top priority, the team sought ways to include fans in the piece rather than exclusively focusing on the Indiana Pacers players. The animation begins by placing the viewers outside the iconic Gainbridge Fieldhouse, where fans can relive fond memories from past games.
From there, the journey takes the viewer behind the scenes of the arena, providing a glimpse into areas that they likely have never seen before, giving them a unique look of Gainbridge Fieldhouse. The result was a masterful work of art that transported fans into the heart of the action.
Organizations
Indiana Pacers
STN Digital
Credits
Tyler Beadlescomb
VP, Head of Digital Strategy
Pacers Sports & Entertainment

Zach Hughes
Associate Director, Social Content
Pacers Sports & Entertainment

Wheat Hotchkiss
Associate Director, Digital Marketing
Pacers Sports & Entertainment
Paige Sterner
Social Media Coordinator
Pacers Sports & Entertainment

Logan Kassel
Social Media Coordinator
Pacers Sports & Entertainment
Kyle Grand
Digital Marketing & Content Manager
Pacers Sports & Entertainment
Tré Bennett
Art Director
STN Digital
Nicholas Rampasaud
Illustrator
STN Digital
Jack Jameson
Account Manager
STN Digital
Brad Smith
Social Media Manager
STN Digital
Clay Benjamin
Jr. Account Manager
STN Digital
Kristin MacDougald
Account Supervisor
STN Digital
Austin Penny
Sr. Account Manager
STN Digital