2023 Nominee ✨
Best Short-Form Video
Best Use of Culture, Music, or Entertainment
Best Original Content or Series (Under 10 min)
ABOUT THIS ENTRY
The NBA Playoffs are when everyone shows up; from the players and legends, to courtside celebs, to fans tuning in from coast-to-coast. For the 75th anniversary of the league, we imagined a single place, celebrated around a single court, where all of the Playoffs action unfolds: NBA Lane Arena.
How does this represent "Excellence in Engagement"?
Playoffs on NBA Lane showcased the potential that can come from season-long integrated content. One narrative wrapper (NBA Lane) allowed the league to expand upon its storytelling to jump from tentpole moment to tentpole moment throughout the season.
The season-long approach helped naturally introduce flexed messaging and flexed media placements to create work that effectively engaged wide-ranging audiences at different moments in time while still distilling an overall brand message at every point. This specific piece of content capitalized on a culmination of excitement throughout the season to unite both fans of the NBA and non-fans in the hype and the heightened energy of the NBA playoffs.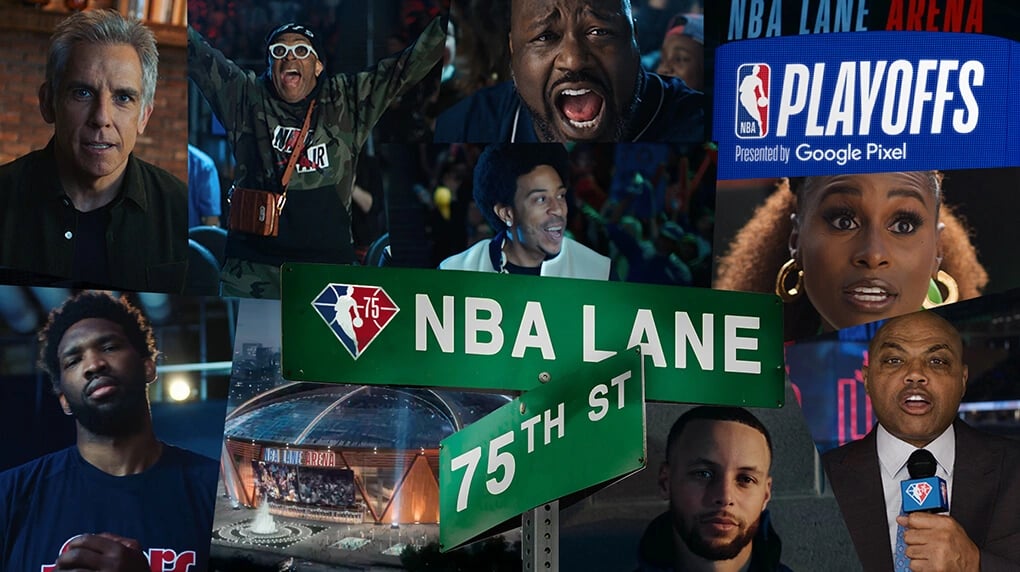 Objective
In an anniversary season where every major marketing tentpole was couched on NBA Lane—a world where every member of the NBA Family lived in one place — it made perfect sense to create an arena where all eyes are locked on the court come Playoffs time.
The campaign aimed to capture the range of emotions and possibilities of each coming Playoff game while honoring the 75 years of basketball history and the culture that has been built around it. From the building's architecture to the surrounding neighborhood landmarks, the plethora of relics and memories allowed viewers to see themselves in the film and have a stake in another legendary Playoffs run.
Strategy & Execution
NBA Lane Arena was purposefully designed to incorporate the memorabilia, moments, and people that have defined the culture surrounding the sport.
From superfans and mega-celebrities to rookies and legends—NBA Lane Arena is the homecourt for everyone in the game.
Taking place inside and around NBA Lane Arena, we showcased our biggest players like Steph Curry, Joel Embiid, Luka Doncic, and Ja Morant; WNBA star Breanna Stewart; NBA legends like David Robinson, Clyde Drexler, Shaquille O'Neal, Charles Barkley, Chris Webber, and Muggsy Bouges; broadcasters like Ernie Johnson, Marv Albert, and Malika Andrews; courtside celebs like Spike Lee, Ludacris, Ben Stiller, and Issa Rae; to countless everyday fans from coast-to-coast.
Our soundtrack also celebrated the massive moment that is the 75th Playoffs by mixing the arena classic "Sirius" by the Allen Parsons Project with "Trophies" by NBA superfan Drake, ultimately making NBA Lane Arena a space for all NBA fans.