ABOUT THIS ENTRY
The three-part video series, Running While Black, was developed with Religion of Sports' partners VICE TV, adidas and MediaCom. The branded series aimed to change the conversation in sports by promoting equality and highlighting marginalized communities whose shared identity shapes their training experiences. All episodes premiered on VICE TV's YouTube channel and were posted to the VICE website.
How does this represent "Excellence in Engagement"?
Running While Black engages with the truth that sports and culture are inseparable from one another. Running While Black was a project intended to inspire viewers to reflect on and think critically about the intersections of race and athletics.
Religion of Sports and partners VICE and adidas produced Running While Black to promote equality through athletes and grassroots organizations, accelerating sport for Black communities, and furthering the growing global conversation around safety for Black runners by highlighting athletes whose shared identity shapes their running and training experiences.
Running While Black seeks to propel the industry forward towards producing more content that amplifies the voices and lived experiences of marginalized voices in ways that will not only highlight their stories but bring about conversation and action.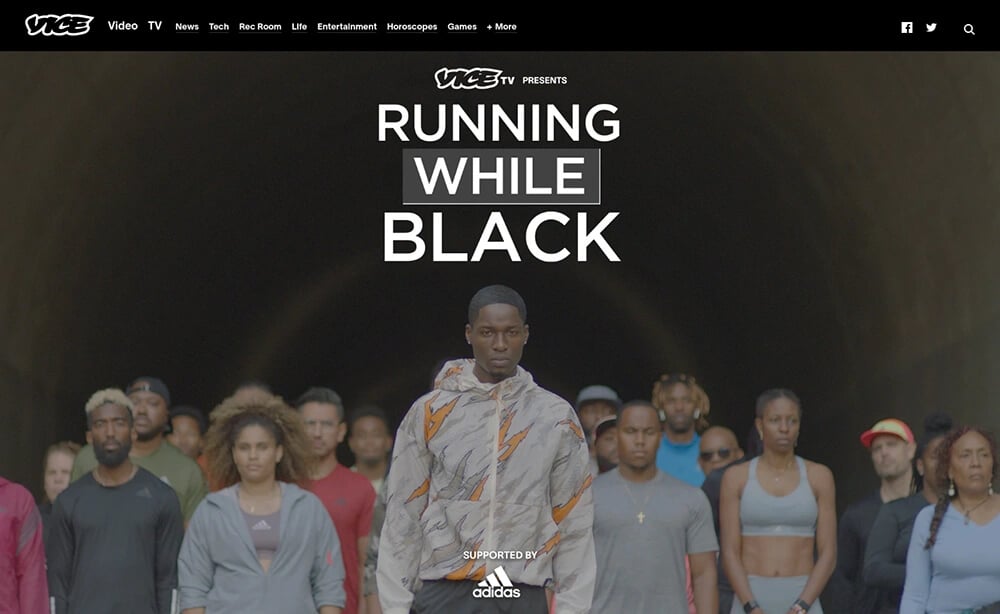 Objective
Running While Black is a three-part video series developed with partners VICE TV, Adidas, MediaCom, and Religion of Sports, the award-winning sports media company founded by filmmaker Gotham Chopra and NFL legends Michael Strahan and Tom Brady.
Following the Ahmaud Arbery tragedy, Running While Black was created to shed light on racial disparity in sports as well as look at racism and prejudice through the lens of sport. For the Black community, running is marked by a history of profiling and violence that often makes the otherwise healthy and empowering sport a source of fear.
This is why VICE TV, Religion of Sports, and Adidas partnered to highlight all the complexities that come from running while Black.

Strategy & Execution
Directed by Jenn Shaw and narrated by American track and field legend Jackie Joyner-Kersee, Running While Black is a 3-part, 20-minute per episode series that looks to change the conversation in sports, promoting equality and highlighting runners whose shared identity shapes their daily experiences.
Religion of Sports created Running While Black with an understanding that athletes bring their whole selves to their sport, and remains committed to telling stories that champion their lived experiences, promoting conversation and change.
Organizations
Religion of Sports
VICE TV
adidas
MediaCom
Credits
Jenn Shaw
Director
Jnine Media LLC
Jackie Joyner-Kersee
Founder
Jackie Joyner-Kersee Foundation

Wanda Cooper-Jones
Founder
The Ahmaud Arbery Foundation

Ashley Toussaint
Athlete
Russell Dinkins
Athlete

Andraya Yearwood
Athlete
Noah Lyles
Athlete
Rudolph "Blaze" Ingram
Athlete

Maria Solis Belizaire
Founder
Latinas Run

Lawrence Harrington
Co-Captain
Black Men Run
George Morse
Co-Captain
Black Men Run

Makini Rush
Co-Captain
Black Girls Run

Theresa Clinton
Co-Captain
Black Girls Run
Janay Jones
Co-Captain
Black Girls Run
Vera Barnes
Co-Captain
Black Girls Run