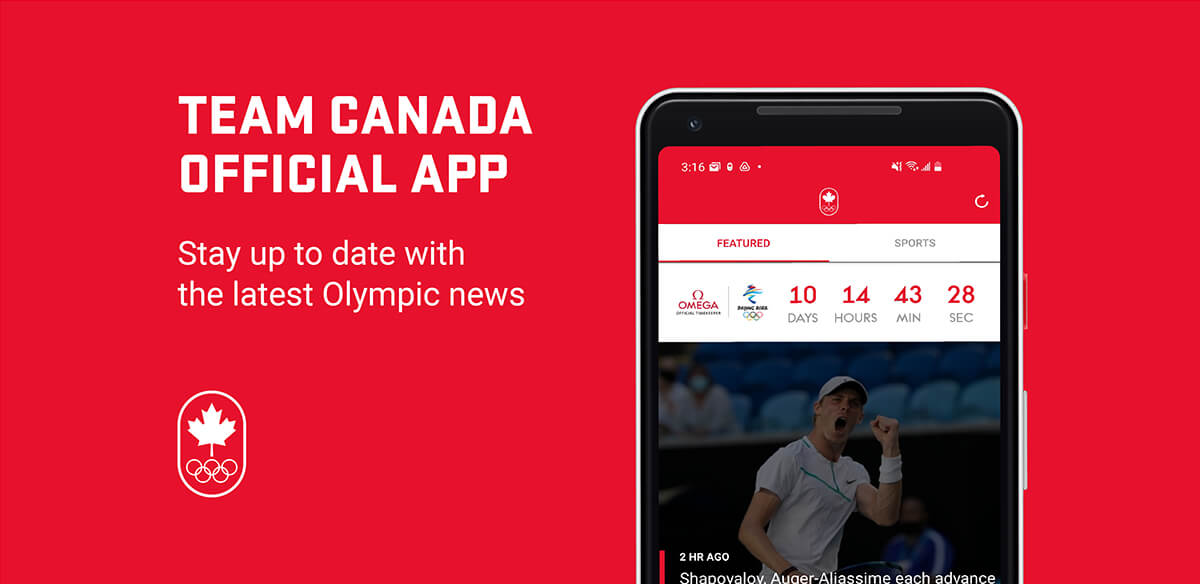 ABOUT THIS ENTRY
The Team Canada Olympic App connects fans to their favorite athletes and sports so they can follow Team Canada year-round. Fans can read athlete stories, get real-time Olympic medal alerts, and engage with interactive games and experiences.
How does this represent "Excellence in Engagement"?
The Team Canada Olympic App allowed Team Canada to bring our content, partners, and brand to fans in a new, interactive way. App-specific activations like Augmented Reality, mini-games with competitive leaderboards, and trivia with the chance to win prizes brought fans closer to Team Canada in a way that wasn't previously possible.
The Team Canada Olympic App allows every Team Canada fan to be notified when their favorite athlete wins a medal, read behind-the-scenes stories about athlete training and preparation, and engage with Team Canada and our family of partners.
Objective
The Team Canada Olympic App was created in 2021 as a new channel for the Canadian Olympic Committee to connect with fans. For the Beijing 2022 Olympic Winter Games, core functionality including News, Schedule, Results, and push notification medal alerts was improved to optimize user experience.
Additionally, several brand new features were added to the app to enhance the value proposition for Team Canada fans, such as: an AR Game and AR Scan the Can activation created with our partner Molson Canadian; interactive content experiences showcasing the team kit from our new partner lululemon; engaging 8-bit video games highlighting our partnerships with Toyota and Petro-Canada; a We All Win Gold redemption program offering fans a chance to win Oreo, Ritz or Cadbury products every time Canada won a gold medal; a Partner Perks wallet featuring coupons and offers from several partners; the Team Canada Trivia Vault featuring weekly quizzes about Olympic fun facts brought to you by Access Storage; and more.
The Team Canada Olympic App offers fans the chance to get closer than ever to their favorite athletes and sports, while driving engagement with the Team Canada brand and our family of partners.
Strategy & Execution
The Team Canada Olympic App was designed to bring fans closer to the content they care about most. For the Tokyo 2020 Olympics, the competition schedule was the app's most visited page, so we optimized the UX for Beijing 2022, where it was the most visited section.
Using the official Olympic data feed, we offered accurate information about when athletes were competing that fans relied on daily during the Beijing Games.
In addition, we highlighted valuable Games information, such as: a detailed Results feed summarizing competition data from all Olympic events, the Medal Table to keep track of the overall Games standings, and a live list detailing all of Team Canada's medallists. By opting in to push notifications, fans received timely alerts for every medal won by a Team Canada athlete.
Finally, the Team Canada App focused on engaging fans with interactive experiences. The "Fan Zone" showcased sports trivia, 8-bit mini games featuring competitive leaderboards and prizing, a Partner Perks wallet of exclusive coupons, AR face paint filters, and an AR game where users tossed a medal onto a Molson Canadian can for the chance to win a prize.
Organizations
Canadian Olympic Committee
YinzCam, Inc.
Believeco
Trew Knowledge
Credits
Colin Freeman
Senior Director, Brand & Digital Marketing
Canadian Olympic Committee
Mark Nadolny
Manager, Digital Products & Analytics
Canadian Olympic Committee
Ellen McCann
Specialist, Digital Products
Canadian Olympic Committee

Serena Adatia
Coordinator, Digital Products
Canadian Olympic Committee

Marcela Perez
Manager, Digital Partnerships & Monetization
Canadian Olympic Committee

Ian Rourke
Associate Analyst, Digital Marketing
Canadian Olympic Committee

Gabi Gomes
Group Account Director
Believeco
Jeremy Linskill
Design Director, Digital
Believeco

Shawn Barrans
President & Senior Strategist
Trew Knowledge
Anthony Moore
Co-Founder
Trew Knowledge

Priya Narasimhan
CEO and Founder
YinzCam, Inc.
Purva Patel
Project Coordinator
YinzCam, Inc.
Aislinn Keenan
Customer Success Manager
YinzCam, Inc.