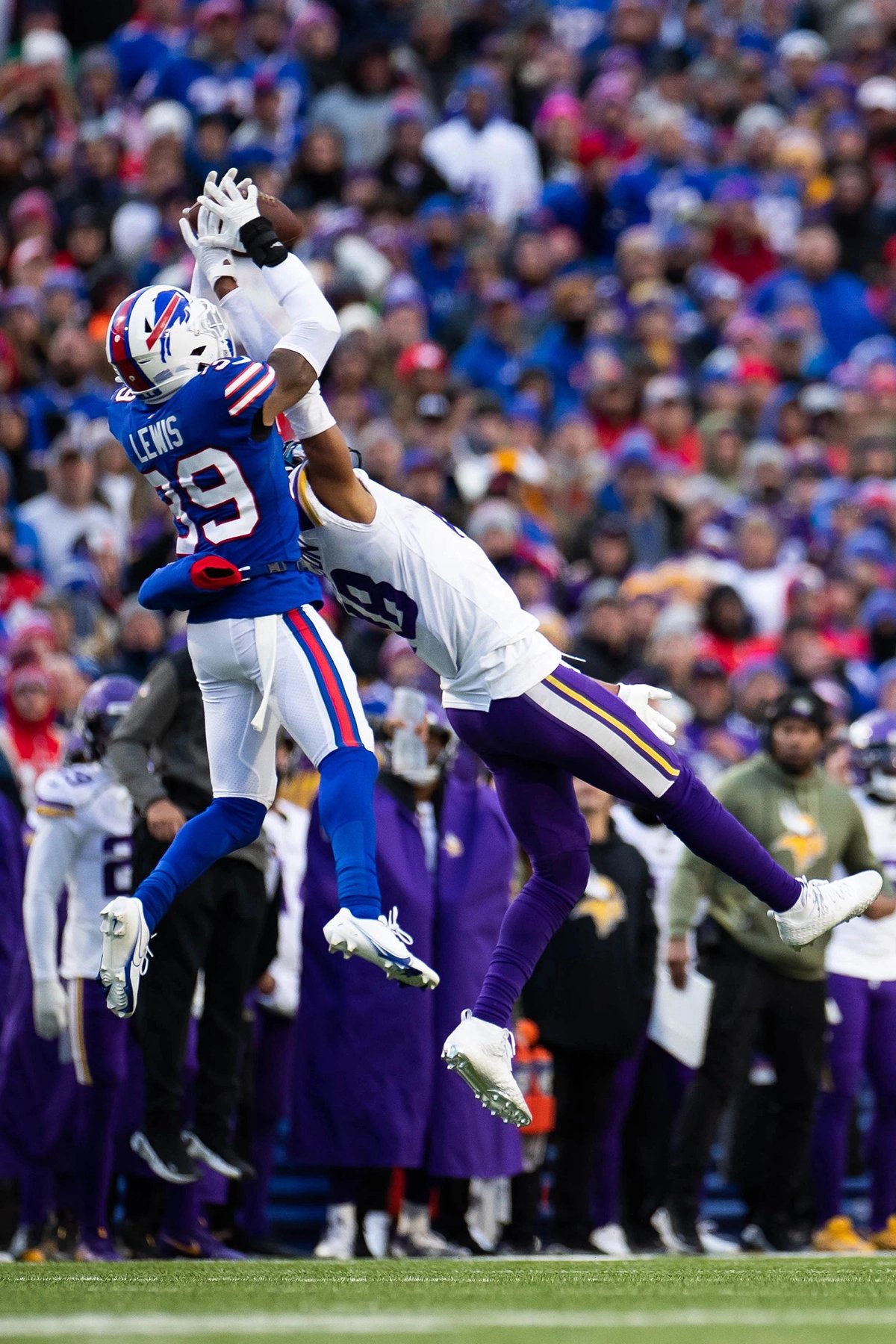 ABOUT THIS ENTRY
Voted as this year's top moment in football, Justin Jefferson leaps to grab a one-handed catch that paved the way to a stunning upset in Buffalo. Vikings Photographer Alli Rusco captured the moment in a perfect way.
How does this represent "Excellence in Engagement"?
Being in the right place at the right time is critical, but it takes a person with a deep skillset and calm demeanor to capture a moment as important as this. People want to relive this moment over and over again, and thanks to the work of Alli Rusco, the Minnesota Vikings were able to provide an opportunity for our fans to keep it with them forever.
Objective
The Minnesota Vikings photography team sets out to get the best possible shots on the field every game. Being in the right place at the right time is part of the equation, but a feel for when a big moment is coming takes a skilled professional.
Vikings photographer Alli Rusco combined her positioning on the field and instinct to capture the craziest moment in football in 2022. Even milliseconds matter—and she hit the button to capture it at the exact right moment.
Strategy & Execution
With Buffalo quickly taking control of the game, the Vikings scrambled in the second half to catch up. With the score starting to even up, the Vikings faced a fourth and long, seemingly impossible play to keep the game moving.
Vikings Photographer Alli Rusco knew she had to be in the right place at the right time as the momentum started to pick up. Factoring in the urgency of this moment, Alli realized that the most likely scenario would be a Kirk Cousins to Justin Jefferson throw. Spotting him from across the field, Alli trained her camera on Jefferson.
In what has been awarded the NFL's Top Moment of the Year, Justin Jefferson leaped in the air under deep coverage and dragged in a one-handed catch in what can only be described as "the greatest catch of 2022."
Alli caught the stunning moment in perfect clarity on her camera, which became the face of "The Moment" coverage. The Vikings would go on to defeat the Bills in overtime.
Organizations
Credits
Alli Rusco
Team Photographer
Minnesota Vikings
Andy Kenutis
Team Photographer
Minnesota Vikings