2023 Nominee ✨
Best Social Media Campaign
Best Use of Culture, Music, or Entertainment
TikTok
ABOUT THIS ENTRY
For over 50 years, Panini has been the official publisher of the UEFA EURO stickers collector's book. But in 2024 things will change—because the US brand TOPPS will take over, publishing the official stickers and trading cards.
Our job was to create a unique social media campaign to communicate this new partnership and to generate awareness amongst fans and media. All this led to an idea, in which we worked with José Mourinho and presented him as the official Topps sticker manager. And thus, made him a true TikTok legend.
How does this represent "Excellence in Engagement"?
Anyone can make use of a well-known celebrity to promote their brand. The real challenge is to find a unique connection to the celebrity and to activate its character in a way that benefits the brand. By creating a social media campaign that not only lived up to José Mourinho's beloved character but was also loaded with "memeable" scenes, dialogues and sentences, we managed to connect Mourinho and his unique character to the TOPPS brand.
We also showed the enormous power a good story can have on social media. Countless fans used the video's catchphrase and created their own version. In this way, the brand was able to take the hearts of soccer fans by storm not only with a good social media campaign but also with lots of user-generated content.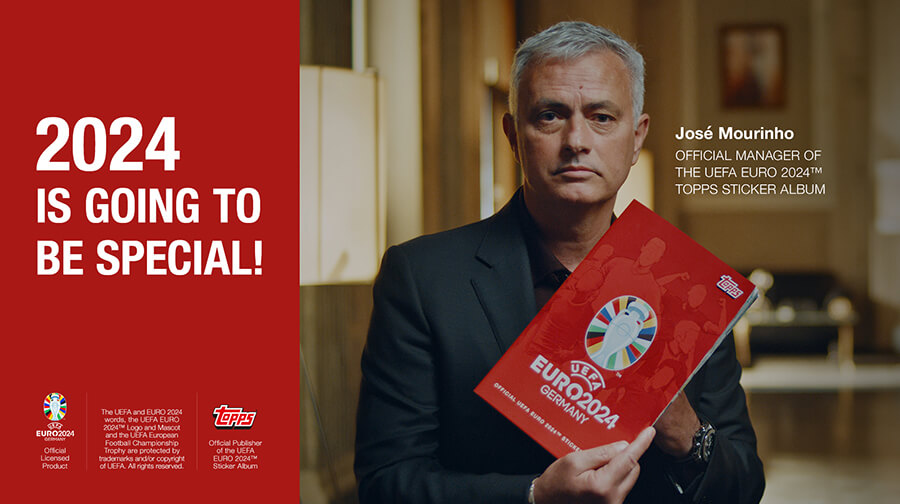 Objective
With a legacy of over 60 years, Panini has established itself as an absolute love brand amongst European football fans. So, we had to find a way to communicate the new partnership between UEFA Euro and the US brand Topps in a way that wouldn't upset fans but would create curiosity. To achieve this, we worked with a true fan favorite and manager legend: José Mourinho. And thus, were not only able to reach the hearts of fans but also gained millions of TikTok Views.
Strategy & Execution
European soccer fans are extremely sensitive when it comes to change. Especially when a U.S. brand takes over from a beloved European brand. With a legacy of over 60 years, Panini is exactly such a love brand and the only brand in the field of stickers and collectibles that matters to most European soccer fans.
So, in order to establish the US brand Topps in the European soccer market as quickly as possible, we had to find a way to surprise fans in a positive way. That's exactly why we worked together with manager legend and fan favorite José Mourinho.
In a self-deprecating social media film, the Portuguese coach lives up to his iconic and slightly arrogant character that fans love. He not only announced the new partnership but also crowned himself as the official TOPPS "sticker manager". Creating an entirely new role that allows us to communicate the partnership in an entertaining way until EURO 2024.