ABOUT THIS ENTRY
FOX Sports leaned on Tagboard's Cloud Production Studio to power graphics and real-time fan engagement on 129 live shows from the 2022 FIFA World Cup in Qatar. Unlike traditional production workflows, cloud technology-enabled FOX Sports producers to collaborate and live to produce the show despite being separated by 8,000 miles and an 11-hour time difference; saving them time and money while creating their most-viewed digital content series of all time.
How does this represent "Excellence in Engagement"?
Using Tagboard's patented social aggregation technology, FOX Sports was able to filter through millions of reactions on social channels, sourcing more than 1,000 posts in real-time, and engaging the millions of fans watching WORLD CUP NOW. Fans felt a connection to the broadcast by seeing their posts on Livestream, or seeing reaction videos posted by other fans watching from all around the world, creating one of the most globally connected productions the world has ever seen.

In addition to setting new standards in audience engagement, FOX Sports' use of Tagboard's Cloud Production Studio showcased the potential of cloud production workflows over traditional hardware systems, pushing the industry forward. By adopting cloud production, FOX Sports significantly reduced operating costs by eliminating the need to transport equipment or operators across the world.
Given the success of the 2022 FIFA World Cup, FOX Sports plans to use the same approach for the 2023 FIFA Women's World Cup in Australia and New Zealand, setting a blueprint that shows how productions of all budgets can deliver a high-quality live stream experience that engages the modern fan and rivals the largest broadcast networks in the world.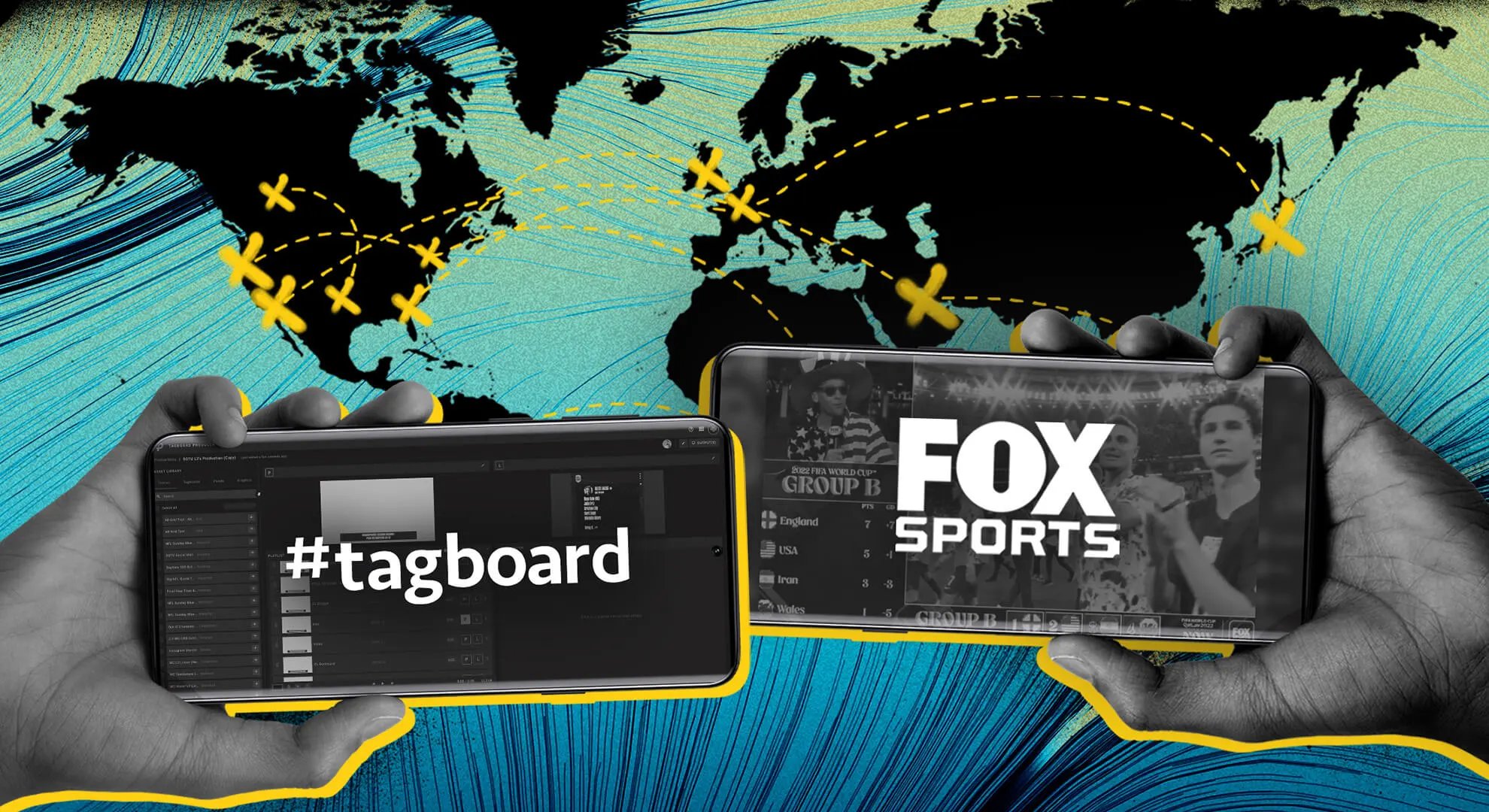 Objective
FOX Sports Digital set an ambitious goal for the 2022 FIFA World Cup Qatar; in the words of their SVP of Digital, Michael Bucklin, they wanted to offer the greatest digital content coverage in the history of sports media. That included digital productions on Twitter for all 64 matches of the tournament, totaling 129 live streams and 60 hours of original content. The show WORLD CUP NOW streamed exclusively on FOX Soccer's Twitter channel (@FOXSoccer) and provided fans from around the world with an exclusive VIP experience, making them all feel closer to the action. The stream featured live commentary, in-stadium feeds, and real-time reactions and opinions from fans and celebrities.
Strategy & Execution
To pull off a production of this magnitude FOX Sports knew it would take a dedicated effort from the entire team, but recognized the feasibility of sending everyone halfway across the world for a month wasn't possible. Leveraging the Tagboard's cloud technology their team collaborated between Qatar and Los Angeles, an 11-hour time difference and 8,000 miles apart.

In addition to creating efficiencies in the production, Tagboard was also the interactive technology needed to engage the most distracted audience the world has ever seen. The modern fan has a phone in their hand at all times, and WORLD CUP NOW was built to engage them on that device.
Tagboard was the source for all livestream graphics; including lowers, player cards, brackets, and real-time content from social as fans engaged with the live show. The set and portions of the team were located in Qatar, but the graphics operator running Tagboard worked from Los Angeles.
FOX Sports wanted a cohesive look and feel between the broadcast television coverage and digital, and Tagboard's technology meant they didn't need to sacrifice quality. The team created efficiencies that helped ensure a best-in-class product and earned glowing reviews from industry experts and fans alike.