ABOUT THIS ENTRY
Overtime's core mission has always been about athlete empowerment and giving a voice to that next generation athlete. Since its debut in 2019, the WBB Takeover has showcased the nation's best female basketball players from across the country. This past year, we brought the WBB Takeover to our Overtime Elite Arena in Atlanta and it was electric!
The girls showed out as they competed in 3v3 and Queen of the Court, all with the guidance of special mentors in UConn Guard and AP Player of the Year, Paige Bueckers, March Madness champ and 2019 WBB Takeover 's Queen of the Court, Zia Cooke, and March Madness champ and two-time Pac-12 champion, Haley Jones. For this submission, we'd like to shine a spotlight on our WBB Takeover fueled by Gatorade.
How does this represent "Excellence in Engagement"?
A true win/win, this event created content that the Overtime audience enjoyed which led to successful metrics for both Overtime (i.e. watch time and engagement) and Gatorade (increase in priority brand KPIs). Building upon this success, Gatorade and Overtime are continuing to work on additional women's-focused sporting events.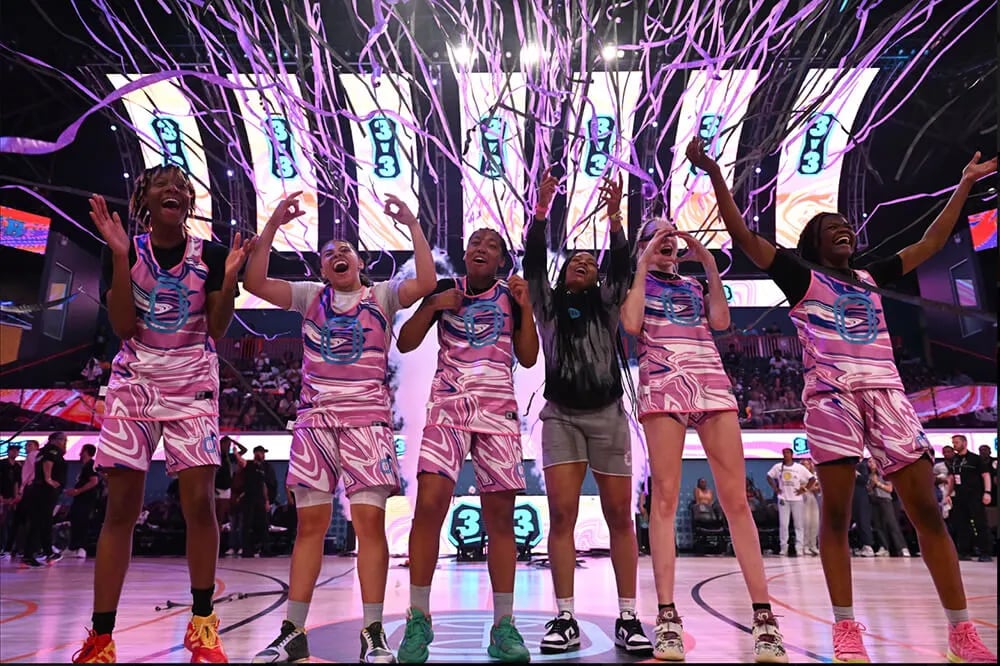 Objective
As a first mover in the women's basketball space and the #1 women's sports account on TikTok with Overtime WBB, Overtime has made it known that we're all-in on shining a spotlight on women's sports. It's also what the next generation of sports fans expect; 60% of Overtime fans are MORE interested in women's sports now than a few years ago.
With 1 in 3 being female, we can't de-dup our audience, this is something every publisher like us deals with and the same reason why we reach over 75 million fans and followers meaning people follow us on multiple platforms and multiple accounts.
Our WBB TikTok account, with 1.8 million followers is the #1 account dedicated to women's sports on the platform. The account also leads in engagement with 76MM TikTok Likes, WBB has more likes than all women's sports accounts and 7x more than the WNBA official TikTok. Overtime's WBB Instagram also has over 550k followers.
With our knowledge of women's sports, combined with our audience's desire to see more, we knew we had to bring the WBB Takeover from conception to reality and give the fans what they wanted.
Strategy & Execution
Overtime's WBB Takeover, fueled by Gatorade, was a two-day basketball and content experience in Atlanta on May 13 - 14, showcasing the top high school basketball players in the country. University of Connecticut Guard and Gatorade athlete Paige Bueckers served as Executive Producer, where the most talented and influential female high school players battled for supremacy on the court.
As the presenting partner of the WBB Takeover, Gatorade sponsored Paige Bueckers Film School, executive produced by the rising junior, where she sat down with participating athletes 1:1 providing mentorship on how to help build skill sets for that next level. The WBB Takeover Movie, a film capturing the weekend's best on-and-off-court moments, also received support from Gatorade.
Overtime's core mission boils down to athlete empowerment and using NIL to bring tomorrow's all-stars already making a splash like Aliyah Boston, Zia Cooke (reigning champ from 2019's Takeover), Haley Jones, and Jaden Owens to mentor, coach and support.
Weekend highlights include:
WBB 3v3 competitions
State Farm Queen of the Court crowning the top 1v1 players
Off-court activities for fans including a surprise musical performance, player autographs, photo opportunities and more
Organizations
Overtime
Gatorade
Optimum Sports
Featured Athletes
Paige Bueckers
Aliyah Boston
Zia Cooke
Haley Jones
Jaden Owens
KK Arnold
Paris Clark
Talaysia Cooper
Chance Gray
Flau'jae Johnson
Ta'Niya Latson
Maya Nnaji
Mikaylah Williams
Angelica Velez
MiLaysa Fulwiley
Chloe Kitts
Zam Jones
Taj Roberts
Crystal Henderson
Kiyomi McMiller
Credits
Jack Jenkins
VP, League Partnerships
Overtime
Marc Kohn
Chief Content Officer
Overtime
Josh Fendrick
Head of Content Operations
Overtime
Sascha Malas
Senior Manager of Talent & Content Operations
Overtime
Anna Karefa-Johnson
VP, Brand Experience & Community Engagement
Overtime Elite
Morgan Bartelstein
Account Executive
Overtime
Matthew Fogarty
Head of Content Operations
Overtime
Tebor Goodall
Account Manager, OTE Brand Partnerships
Overtime
Le'Sheala Dawson
Sr. Director, Athlete Relations and Partnership Development
Overtime
Janine Dugre
League Administrator
Overtime