ABOUT THIS ENTRY
The World Surf League's global We Are One Ocean initiative continues to be front and center for WSL athletes, employees, and fans through a series of grassroots conservation projects that are designed to focus on one of our three Sustainability pillars: Coasts, Plastics, and Climate.
Each of our projects is connected to the WSL Championship Tour season - ensuring that as WSL visits each of these iconic locations, we are also working closely with local communities and grassroots organizations to protect and conserve that location for generations to come.
Through our combined social reach, our digital platform and live global event broadcasts, we shine a light on WSL athletes, and local community organizations who lead this work in partnership with our We Are One Ocean initiative to millions of people around the globe.
How does this represent "Excellence in Engagement"?
Our #WeAreOneOcean initiative has brought together people from over 150 countries, +100 organizations, and achieved a cumulative reach of +400 million. Based on our reach, engagement, survey results and overall social media sentiment, we are seeing a significant increase in surfers caring about the environment since the introduction of #WeAreOneOcean. In particular, we are seeing more CT surfers engage in our initiatives. Throughout 2022, we had 39 different surfers participate in our environmental work.
We believe engaging our athletes to speak on behalf of this work inspires fans to engage in more profound ways than any brand on its own can hope to achieve. For example, when Championship Tour surfer and Olympic Silver Medalist Kanoa Igarashi, shares his experience working with We Are One Ocean in iconic locations around the world ranging from Australia to California on his personal channels, overall engagement in the content skyrockets.
We believe our role as a global sport is to inspire athletes, fans and ocean lovers to care about protecting our one ocean. We want to bring together a community to collectively work together to inspire change - in big and small ways.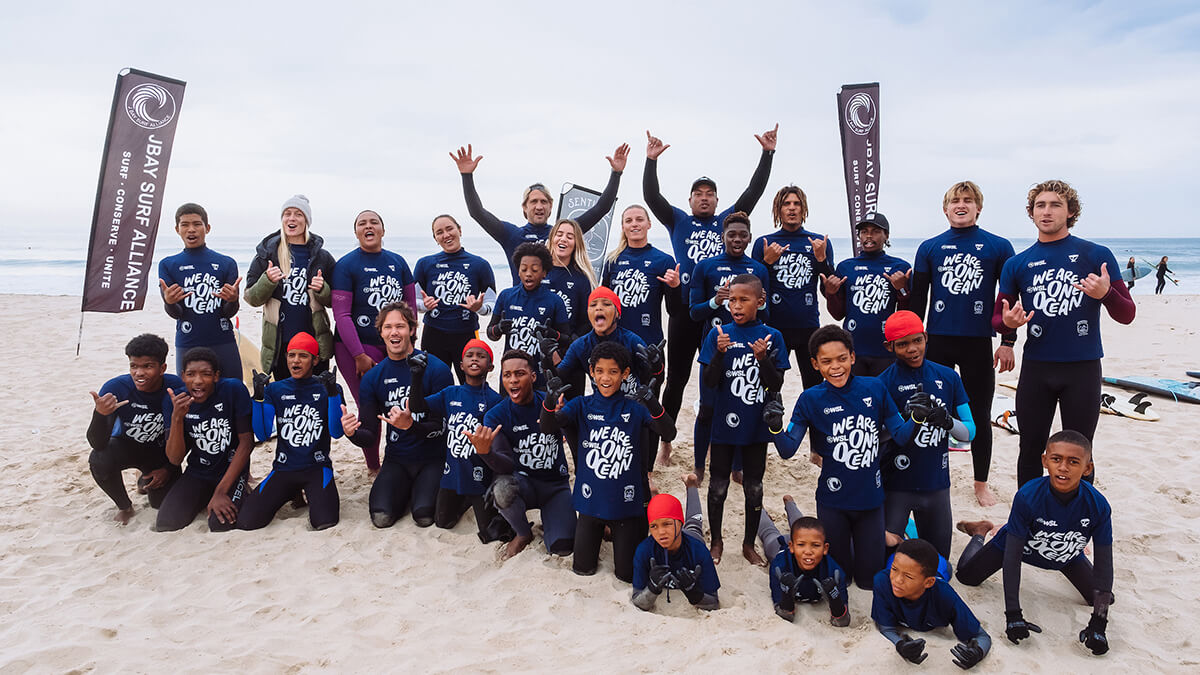 Objective
Our ultimate objective is to protect and conserve our one ocean to preserve the future of our sport.
Additional goals and actions we took to achieve this are:
We activated, celebrated, and funded critical conservation work around the world - focusing on working with grassroots organizations and local communities;
We continued to build our We Are One Ocean coalition to +100 organizations, as we believe this community has an important role in working together to inspire change.
Businesses: https://www.weareoneocean.org/corp-submissions
Through our fan engagement campaign and our #WeAreOneOcean hashtag, we created a global community where individuals—surfers, fans, ocean lovers—feel connected and inspired to work together to inspire change.
Article: https://www.worldsurfleague.com/posts/504769/wsl-celebrates-world-nature-conservation-day-with-six-creators
Through our actions, we hope fans see WSL leading change and doing meaningful and authentic work that is truly making a difference and having an impact.
As a sports league, in 2023 and beyond, we remain committed to carbon-neutral operations, ensuring that all of our events are single-serve plastic-free and leading our global We Are One Ocean initiative in partnership with our WSL athletes and the We Are One Ocean coalition.
Strategy & Execution
Our We Are One Ocean content was designed to capture people's attention and appeal to hearts and minds. We find new ways to tell stories to align with media trends and differentiate from other sports content. We also leverage creative partnerships to share our message with new audiences such as:
We have a diverse implementation strategy for #WeAreOneOcean content posting optimized assets across broadcast, email, social, editorial, as well as having the initiative expressed through commentators, surfers, and fans. We produced 17 unique films to educate and inspire our audience to take climate action: https://www.weareoneocean.org/impact
By leveraging the power of media, and keeping our sports fans in mind, we are able to increase awareness and drive real-world impact.
Organizations
Grantees
Nā Kama Kai, Hawaii
ReGeneration Surf Coalition, Portugal
Surf Conservation Partnership, Indonesia
J-Bay Surf Alliance Surf Therapy Programme, South Africa
Native Like Water, California and Mexico
SOS Mata Atlantica, Brasil
Coalition Partners
Kuleana Coral
Coral Gardeners
Surfrider Foundation
WILDCOAST
Orange County Coastkeeper
Paso Pacifico
Oriente Salvager
Corporate Partners
Credits
John Suhar
VP, Environmental and Social Impact & WSL PURE
World Surf League
Felipe Marcondes
Director of Social Media & Content Marketing
World Surf League
Emily Hofer
Chief People Officer & Purpose Officer
World Surf League
Timothy Greenberg
EVP, Production & Branded Content
World Surf League
Shannon Waller
Senior Producer
World Surf League